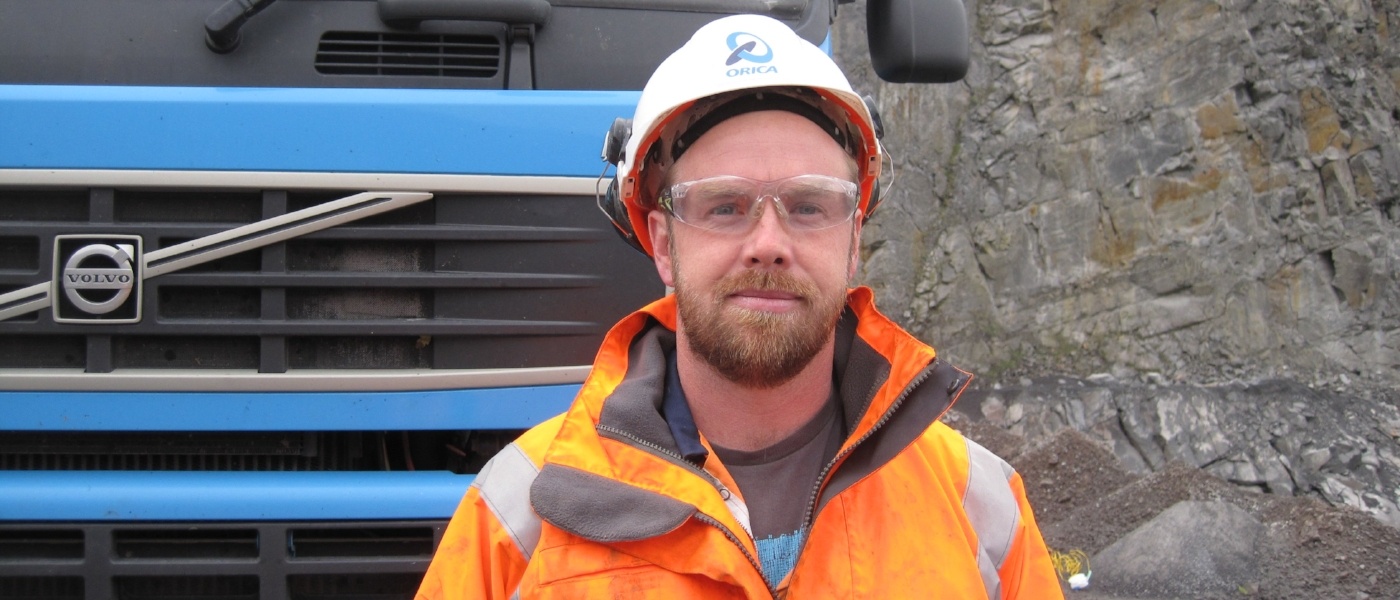 Our regional focus this month looks towards Northern Ireland. Craigantlet-based Stuart Wickie, Shotfirer and Explosives Supervisor atOrica BQS Ltd,has been put forward asthe Institute of Quarrying's (IQ) Member of the Month.
About Stuart
Aged 18, Stuart left his full time job in the textiles industry to explore the world. During the course of his travels he worked in several construction related businesses in Australia and New Zealand, which opened his eyes to the endless opportunities the industry has to offer.
After returning from travelling, and while investigating his career options, Stuart had an offer to join a local drill and blast company, Blast and Quarry Surveys; the rest is history.
Stuart says: "Over the years, I have successfully gained qualifications which have enabled me to professionally progress in my career. I can't stress enough the importance of continuing professional development (CPD) in our line of work. As an Orica employee, we regularly attend training courses and tool box talks to further our knowledge, ensuring that health and safety standards are maintained and improved."
Stuart has now worked for Orica BQS as a Shotfirer and Explosives Supervisor for 12 years.
He continues: "Working for a global company has given me endless opportunities to continue seeing the world. Over the years I have worked in England, Scotland and in 2012 was lucky enough to spend one month working in the Kumtor Gold Mine in Kyrgyzstan. Kumtor is the second highest gold mine in the world at an elevation of 4,000 metres. The mine drills and blasts 160MT of rock per year with blasts ranging in size from 200,000 tonnes to 500,000 tonnes. My job was to help train the local Kyrgyz staff in the use of electronic detonators.
"In 2013, Orica BQS was awarded the tender for the drilling and blasting of approximately 200,000 cubic metres of basalt for a new section of the A8 Belfast - Larne dual carriageway. It was a huge contract and I was tasked as project manager, which in addition to shotfiring, involved liaising with the main contractor, neighbours, drillers, HSE and site personnel."
Northern Ireland Branch
Stuart is a proud IQ member. He is grateful for the variety of CPD and networking opportunities made available through membership.
"Attending IQ meetings keeps me in touch with other goings on in the local industry. There are always informative presentations, which might not be relevant to my role but are still extremely interesting in regard to industry operations. Meetings are a great way to meet people you deal with day-to-day outside of a quarry environment, with social events and charity events which are great fun and help support worthy causes."
How can I get involved?
For any members in Northern Ireland looking to get involved with their local branch, contact:
Chairman
Roy Wallace: roy.wallace@orica.com
Hon. Secretary
David Johnston: jabezsafetysolutions@btinternet.com