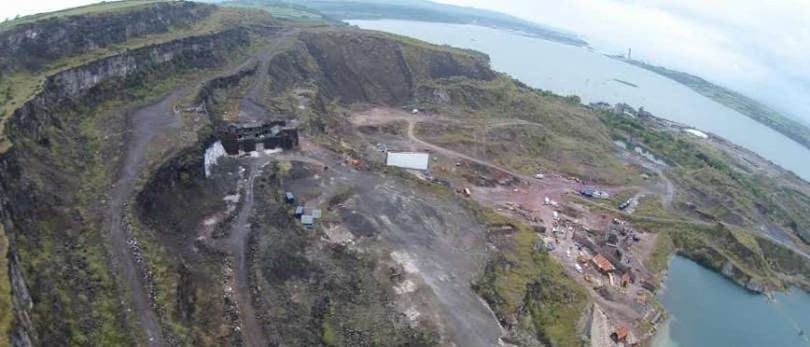 Northern Ireland is one of the most diverse geological areas in the world for its size. The province has Lough Neagh at its centre with various rivers flowing into and out of it, the Upper and Lower Bann being the main river originating in the Mourne mountains, flowing through Lough Neagh to the north coast where it enters the North Atlantic ocean. Sand for the contracting and construction industries is dredged from Lough Neagh.
A fun fact about our region is that the HBO series Game of Thrones is filmed in Northern Ireland! It uses various sites but notably the former Lafarge quarry at Magheramorne is used for filming scenes relating to the "wall in the north" to keep the "wildings" out.
Key resources
County Antrim is predominantly a plateau of basalt which ranges from the Belfast hills to the north coast. The basalt overlays limestone deposits which are used in specialist products The most iconic basalt is the columnar basalt columns of the Giant's Causeway which is a world heritage site and one of the province's main visitor attractions.
County Down is typified by the rolling drumlins of gritstone which is a high PSV aggregate. Many quarry operators export this invaluable aggregate to the mainland and Europe. The M25 is entirely surfaced by bituminous materials containing County Down gritstone aggregate. The famous Mourne mountains have granite deposits. The traditional stonemasons in this area export their wares all over Ireland, the UK and Europe.
West of the Bann, there are numerous sand and gravel deposits found in South Londonderry and County Tyrone. There are 2 gold mines in County Tyrone with further prospecting licences granted for gold and silver.
County Fermanagh is predominantly limestone but also boasts deposits of dolerite and some basalt. Cement production is found in both Tyrone and Fermanagh.
Key operators
Lafarge Holcim and CRH have operations in the province but most of the operators are family owned. The Lagan Group have developed a strong civil engineering operation and surfacing operation over the last 20 years specialising in airport maintenance and road development.
What does the IQ Northern Ireland branch do to support members in the area?
Our branch programme includes technical evenings, field trips, technical visits and social events. Our branch works closely with QPANI, HSENI in promoting the industry, particularly on health and safety and environmental issues. We also have close links with the mining fraternity including Irish Mining and Quarrying Society (IMQS). Joint meetings are held with IMQS and IAT.
How can I get involved?
Branch contact information can be found on the Branch Contacts tab on this page. Contact us by phone or email if you want to get involved!
Chairman:
Vice Chairman:
Honorary Secretary/Treasurer: