Since 2018, the IQ Northern Ireland Branch has raised an astounding £49,000.00 to support local charities, with the annual Stonecrushers Ball and golf day providing the jewel in the crown events for the branches calendar year fundraising efforts.
To further extend their support during the COVID-19 crisis, donations have been made since April to charities requiring help due to the lack of fundraising activities. Donations are generally the Branch Chairman's choice, but suggestions are open to committee or Branch members.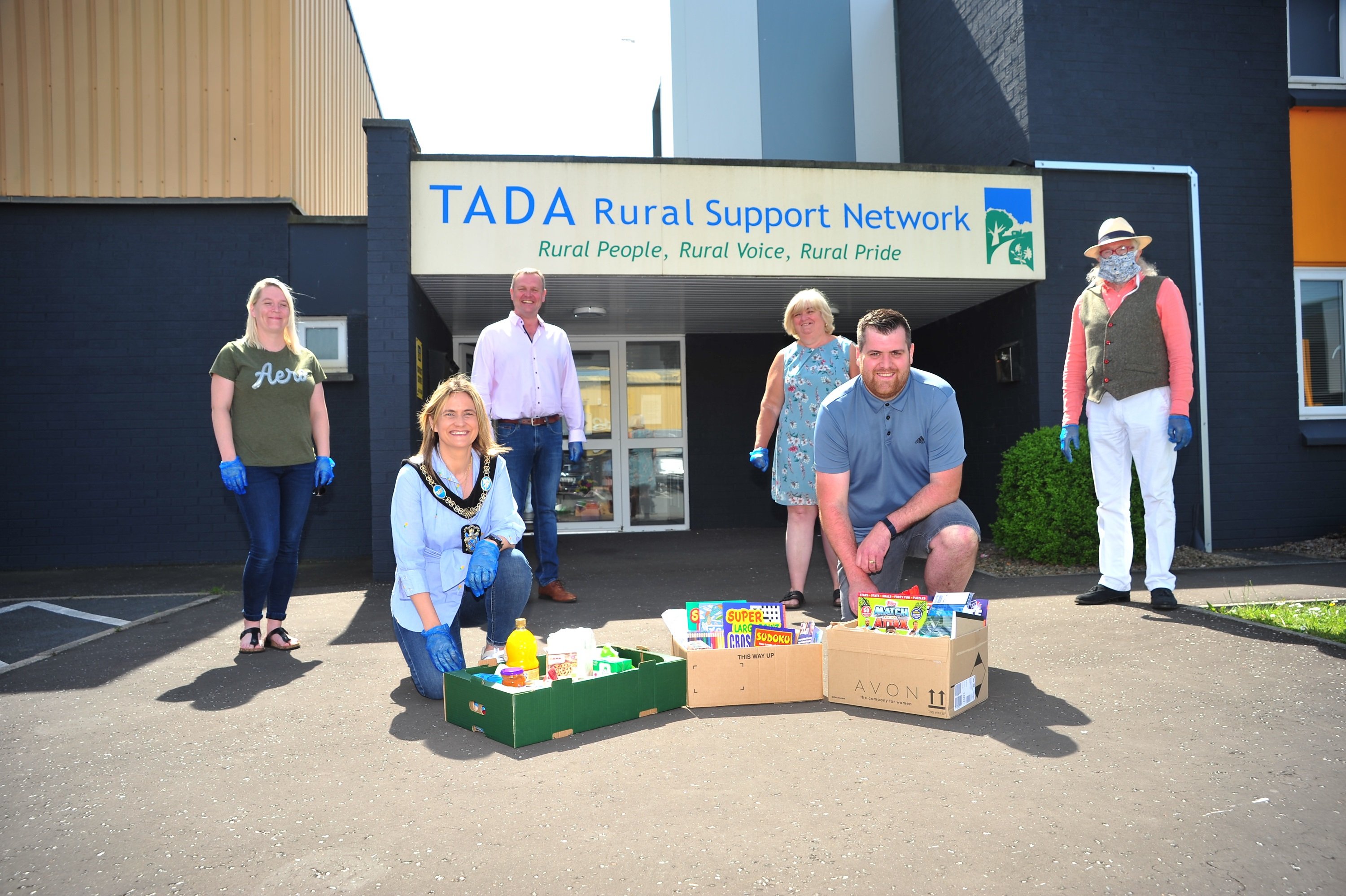 TADA Rural Support Network with their donation supported by IQ member, Gerard Lawless, and Lord Mayor Mealla Campbell
Here are the charities the Branch has recently made a difference to:
Guide Dogs for the Blind (NI) – Helps the training of Guide Dogs and helps people with sight loss, live actively and independently such as with better access to transport and other services.
Irish Rugby Union Benevolent Fund – The Fund supports seriously injured rugby players at both club and regional level. This includes financial assistance and professional help.
Air Ambulance Northern Ireland (AANI) – The local air ambulance service works in partnership with the Northern Ireland Ambulance Service and has had over 1000 callouts in 2 years since starting in Northern Ireland in 2017.
Friends in Action – Friends In Action Northern Ireland are currently drilling wells in Burkina Faso to provide clean water to local communities. Each well provides clean water for about 500 people and they drill approximately 45 wells per year.
Kevin Bell Repatriation Trust - Kevin Bell was a young man who died tragically whilst abroad. His parents set up a trust in his name and they assist families to repatriate the remains of loved ones who die abroad. Each year they assist approximately 800 families with practical and financial support on an all-Ireland basis.
Northern Ireland Hospice – A voluntary funded hospice providing respite and end of life care to cancer patients and help to their families.
Home-Start – Home-Start help young families with no matter what they may face in life and offer them with the service when they are most needed.
TADA Rural Support Network – The charity provides practical support to rural communities within the Armagh City, Banbridge & Craigavon Borough Council in form of food parcels, counselling, and support.
Charis Cancer Centre – The Charis Cancer Centre offers counselling, reflexology, aromatherapy massage and practical support in sourcing financial support for cancer sufferers and their families. They do not charge for their services. Service is provided by volunteers and fundraising.
Holywell Trust (Londonderry) – The Trust works to support local people to have a voice on decisions and influences that affect their lives through a range of programmes and initiatives.
Parkinsons Support Fermanagh – The charity supports the local people in Fermanagh that suffer from Parkinsons.
Please do not forget that there is also the IQ Benevolent Fund available to members. If you or any member you know is in need of financial help at this time, please contact Wanda Zablocki.
For any members in Northern Ireland looking to get involved with their local branch contact:
Chairman
John Moore
Hon. Secretary/Treasurer
Pierce Kirwan