The 'Stonecrushers Ball' organised by the Institute of Quarrying (IQ) Northern Ireland branch is an industry highlight for many. The annual event was the perfect setting to celebrate the Northern Ireland winners of the IQ Excellence Awards.
Special guest Julian Smallshaw, Head of Education and Standards at IQ, presented the awards at the Europa Hotel, Belfast on Friday 25 October 2019 alongside the branch chairman, Roy Wallace MIQ.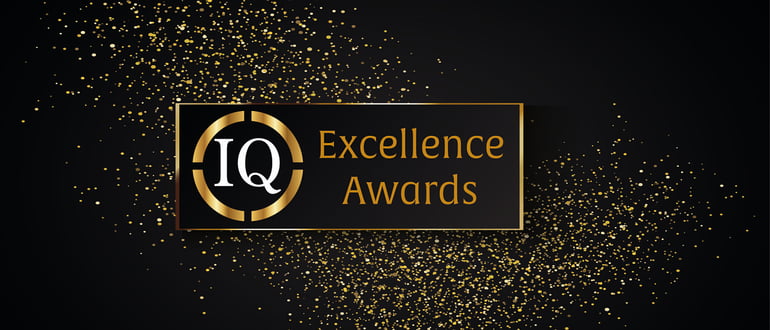 Congratulations to all of the winners:
STANDARDS & PROFESSIONALISM
The Best Personal Development Project award recognises initiatives that are aimed at supporting the professional development of employees at company or site level.
Quinn Building Products won the award for its project 'Quinn Safety Hub'. The judges were particularly impressed with this project as it involved a number of people to really build engagement across the business. It has also been commended by Health & Safety Executive for Northern Ireland (HSENI), describing the system as "a fantastic management tool".
KNOWLEDGE & INNOVATION
The Most Effective Process Improvement award acknowledges a team, project or initiative of technical process improvement that has delivered improved operational performance.
CDE Global Ltd was crowned the winner for its SmartTech Pilot Study, with the judges applauding the collaboration amongst the different stakeholders. The results were impressive and included quantifying the impact of main plant feeder blockages, optimisation of labour, and increased accuracy and responsiveness versus paper-based reporting.
ENGAGEMENT, INFLUENCE & IMPACT
The Most Inspirational Leader award honours an individual who has made the strongest positive impact on the team they are part of.
Kieran Hegarty, President at Terex Materials Processing Division, was revealed as the winner. Under his leadership, the business has become an innovative global leader. He is passionate about continuing professional development and has built global teams through positive engagement.
PERSONAL EFFECTIVENESS
The Most Promising Future Leader award recognises a talented individual for building their all-round knowledge and skills.
Ryan Reid, Graduate Mechanical Engineer at Roadstone Ltd, received the accolade. The judges commented on his great promise for a long and successful career in the industry, with university course leaders especially impressed with his organisational skills, exam performance and ability to communicate learned knowledge.
The IQ Excellence Awards celebrate the success of exceptional individuals, teams and projects around the UK. Award categories are aligned to the quadrants of the IQ Skills Wheel and promote the positive impact professionals make across the country.
About Northern Ireland and the IQ Branch
Northern Ireland is one of the most diverse geological areas in the world for its size. Did you know the HBO series Game of Thrones was filmed in Northern Ireland? It uses various sites in the region but notably, the former Lafarge Quarry at Magheramorne was used for filming scenes relating to the "wall in the north" to keep the "wildings" out.
For more information about IQ Northern Ireland branch, to find out more about events or register an interest, contact:
Chairman
Roy Wallace
Vice Chairman
John Moore
Secretary/Treasurer
David Johnston
jabezsafetysolutions@btinternet.com / 07887 514 410.