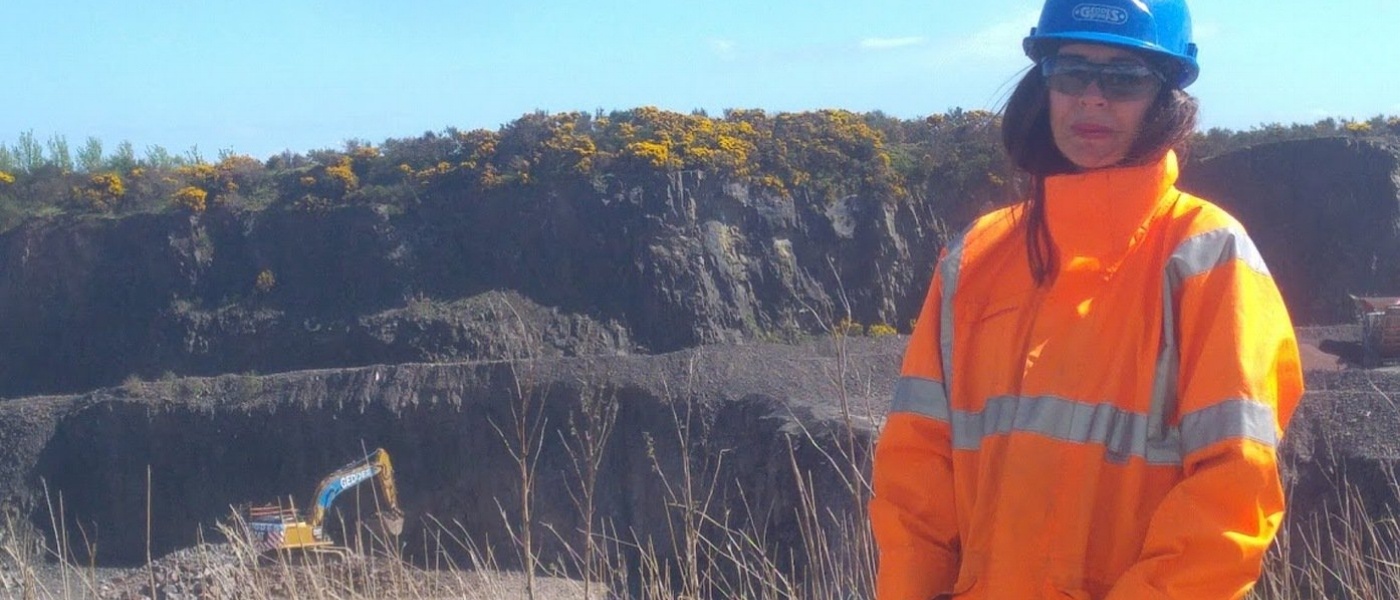 Covering a staggering 31,000 square miles, the Scottish branch of the Institute of Quarrying (IQ) is the biggest region in the UK. It is also home to Glensanda, the largest granite quarry in Europe, as well as some of the oldest rocks in the world.
Susie Urquhart
has worked in this region all her professional life and like many 'fell into' the industry and has never looked back. For the last five years she has worked as Safety, Health and Environment (SHE) Advisor at Geddes Group, a family run firm providing quarry products, plant and skip hire, based in Arbroath.
About Susie
Faced with redundancy from Camas Building Materials in 2001, Susie was delighted to be offered a position at Bardon Aggregates, Fledmyre Quarry in Angus, a small sand and gravel site that won the 'John Crabbe Memorial Trophy' over 15 years ago for its approach to restoration. The quarry manager at the time, Davie Crabb, has had a huge influence on her career. Although now in his 70s, he is still working in the industry.
She says: "I was lucky to be in the right place at the right time. It's with thanks to Davie that I am where I am today, in a job I love surrounded by good people and a great support network. The industry rewards those with a strong work ethic, who are driven and want to succeed; particularly for women, no roles are off limits!
"I've had great opportunities, from being hands-on in operations and driving dump trucks and loading shovels, to the head office role I now have overseeing the health and safety for the Geddes Group. "
Susie was encouraged to complete industry relevant qualifications, including the DAPS course - which have now been replaced by the Foundation degree delivered by the University of Derby. During her time at Aggregates Industries she was encouraged to join IQ membership and is reaping the benefits.
She adds: "The DAPS course really underpinned my career so I would highly recommend completing relevant qualifications to anyone in our industry; it provided me the foundation for future roles. Becoming a member of the Institute of Quarrying has also provided a great support network and endless continuing professional development (CPD) opportunities, which go hand-in-hand with my current role."
Scottish Branch
Two years ago Susie was asked to become part of the IQ Scottish branch committee. She says:
"I'm proud of my IQ membership so it's an honour to be part of the committee; it gives me the chance to provide support for local members. I attend most branch meetings and personally love the social aspect. The network you can grow through attending IQ branch events is invaluable and the Scottish dinner dances are legendary; it's a well-supported and attended event."
How can I get involved?
Tuesday 18th September 2018 – Mike Tetley (Nominated topic TBC)
Tuesday 16th October 2018 -Raymond Jackson (Allianz) – Statutory Inspections
Tuesday 13th November 2018 - Eoghain Cook Pyrotechnics
Saturday 1st December Annual Dinner Dance 2018
Tuesday 16th January 2019 joint meeting IAT – Stirling - AWPR Project
Tuesday 19th February - Dust suppression/control
Tuesday 12th March Joint meeting IOMMM – Stirling - Potash Mine
Tuesday 23rd April CPD Day + AGM
For any members in Scotland looking to get involved with their local branch, to find out more about the above events or register an interest, contact:
Chairman
Andrew Gillon
andy.gillon@solway-precast.co.uk / 07976 340 361
Vice Chairman
Ian Christie
ian.christie@bamritchies.co.uk / 07774 989 072