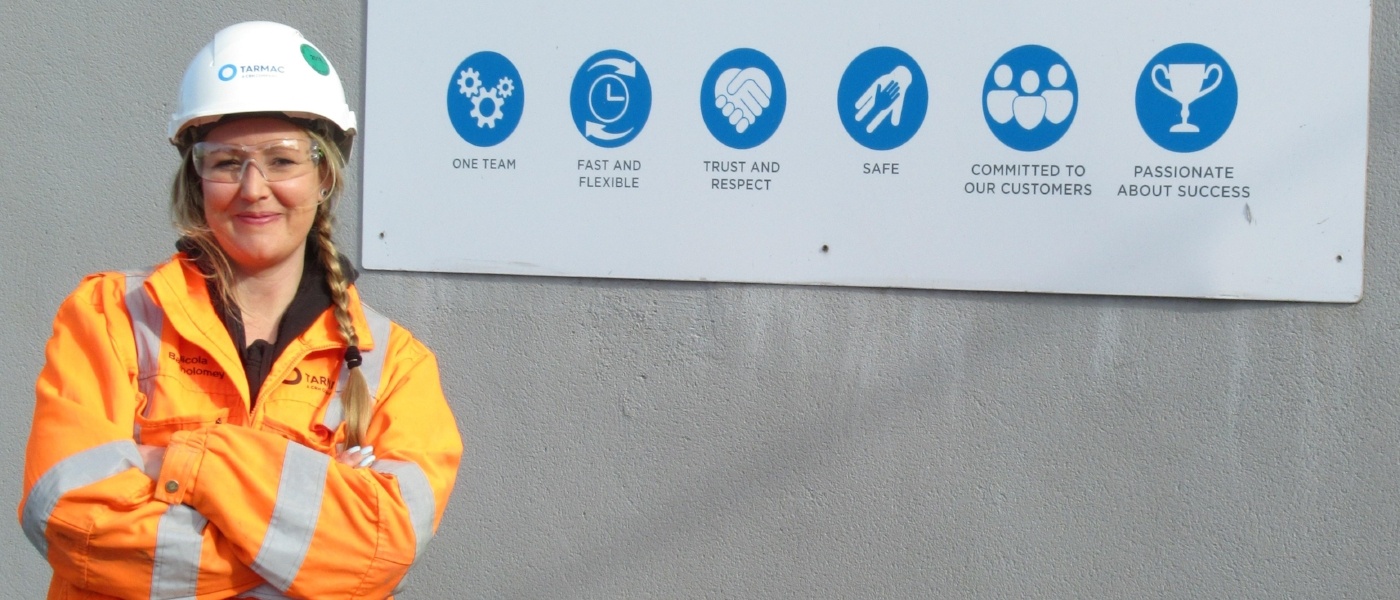 The South Wales branch of the Institute of Quarrying (IQ) proudly has more than 200 active members throughout Pembroke, south, west and mid Glamorgan, Gwent, Monmouth and Powys.
One of those is
Nicola Bartholomey
, who is Quarry Manager at Aberthaw Quarry for Aberthaw Cement Works, as well as Vice Chair for the branch. After accidentally 'falling into' quarrying more than 15 years ago, she now can't ever see herself leaving the industry.
About Nicola
Like many 16-year-olds, Nicola left school with no idea what to do as a career. Landing a job in a concrete and aggregate laboratory, working for RMC, her role required weekly site visits to Taffs Well Quarry, near Cardiff. After seeing a blast for the very first time, it clicked; quarrying was where she belonged.
Since then, Nicola has worked in several roles within the industry and loves that every site is different with its own challenges.
"There are many factors I love about my job and working in the sector; being outdoors is fantastic, I love the challenge of planning the future of the site and am proud to work alongside a hard-working team. Embedded in my day-to-day operations is the health and safety of the team and I'm delighted that our site recently reached 20 years 'Lost Time Injury' (LTI) free, which is a huge achievement.
"I would encourage anyone to look into a career in the industry; even my sister joined as an apprentice many years ago and is also a quarry manager within Tarmac. We're always keen to inspire the next generation and recently organised a successful site visit for 30 school children, giving them an insight into what a career in quarrying is like."
Lifelong learning is also top of Nicola's agenda and she is pleased to have recently completed her Bachelor of Science Honours Degree at the University of Derby.
"For anyone thinking of completing a degree through the University of Derby, just do it! Over the years I've held a management position in several different roles, but completing this qualification has helped me better understand other aspects of my role, such as the commercial, financial and human resource side."
South Wales Branch
Nicola has been an IQ member for several years and has attended branch meetings for more than 10 years. Commenting on the benefits, she said:
"Not only do branch and IQ events both offer continuing professional development (CPD) opportunities, they're also a great way to network and share best practice with likeminded people in our sector. I personally believe the safety days that the South Wales branch hold annually are always very good; Dave Goodman from CEMEX usually arranges them and he never fails to organise a great day!"
How can I get involved?
Upcoming events include:
Safety Day - Wednesday 9th May 2018 at Bridgend Rugby Club, Brewery Field Clubhouse, Tondu Road, Bridgend, CF31 4JE
Summer Ball - Friday 20th July 2018 at The Bear Hotel, Cowbridge, CF71 7AF
Golf Day - Friday 14th September 2018 at Radyr Golf Club, CF15 8BS
Annual Dinner and Dance - Saturday 1st December 2018 at The Marriott Hotel, Cardiff, CF10 1EZ
For any members in South Wales looking to get involved with their local branch, to find out more about the above events or register an interest, contact:
Chairman
Simon Swinford
Email: husky410@btinternet.com / 07557 418496
Vice Chairman
Nicola Bartholomey
Email: nicola.bartholomey@tarmac.com
Secretary
Brett Morris
Email: brett.morris@cnhind.com / 07841 569218