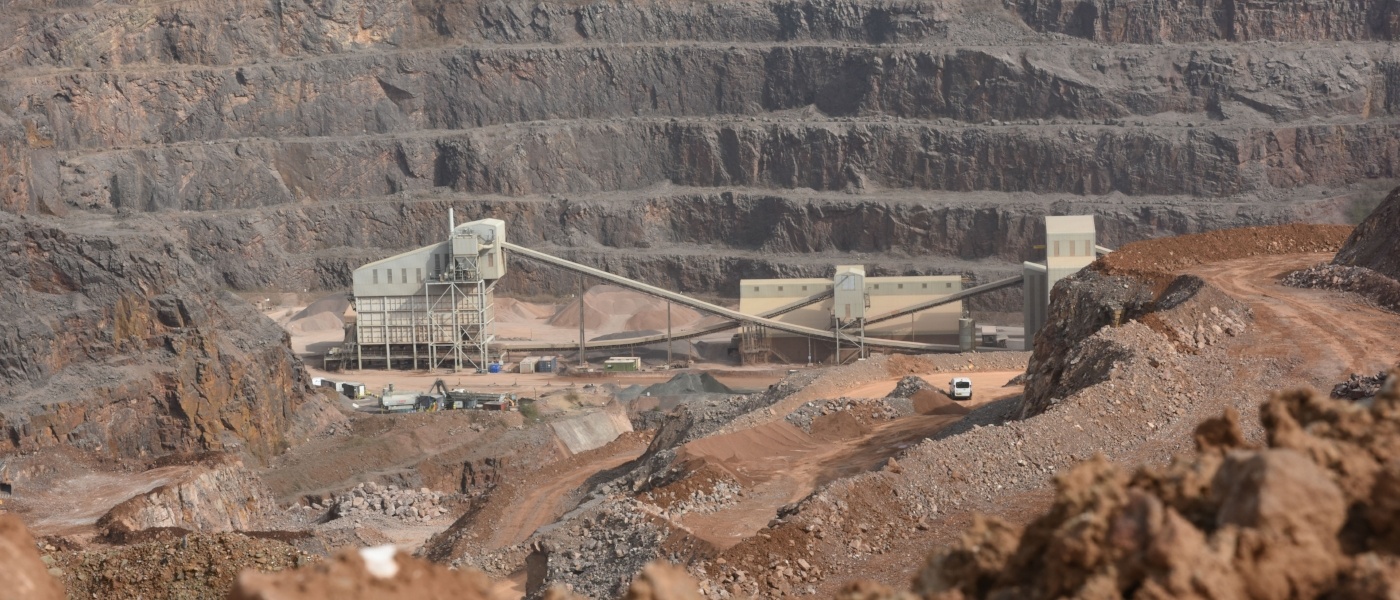 The South Wales branch of the Institute of Quarrying is very active with 240 members throughout Pembroke, South, West and Mid Glamorgan, Gwent, Monmouth and Powys.
Key resources
The main resource in our region is typically limestone, plus there are some pockets of grit stone and coal.
Minerals; rock types (and their ages) include:
Limestone (Carboniferous) and Blue Lias Limestone for cement manufacturing.
Diorite is part of the Johnston Diorite Complex which varies from diorite to granodiorite (Precambrian).
Tuff (Precambrian and Ordovician).
Dolerite (Ordovician).
Sandstone (Arkose and Ordovician).
Materials include boulders; aggregates; ready mixed concrete; and bitumen coated road stone.
Coal is also extracted in significant quantities throughout South Wales, with several opencast sites operating in the region. It is supplied to the domestic market and exported to Europe.
Key sites and operators
Aberthaw Quarry supplies Blue Lias Limestone to Tarmac Aberthaw Cement Plant. Also, Cemex Taffs Well and Tarmac Cornelly are both large Limestone quarries that supplies the steelworks at Port Talbot.
Meanwhile, operators in our area include majors such as Tarmac, Hanson, Cemex, GD Harries and Celtic Energy. Independent operators include T.S Rees, Gower Plant and Bryn Quarry.
Current/future projects
A range of the quarried materials from our region are used widely across South, East and West Wales for construction, such as roads and buildings, as well as coastal engineering. The latter includes boulder revetments (rock armour), beach replenishment and seawalls.
In the past our diorite has been supplied to Hinkley Point C Nuclear Power Station, in Somerset, for the use of rock armour.
As for future projects, coal operations at East Pit will soon come to an end with exciting regeneration and aftercare plans in place for the site.
What does the IQ South Wales branch do to support members in the area?
Our local branch holds six technical meetings per year at the Bridgend Rugby Club in South Wales. These alternate between morning and evening sessions to please as many members as possible. Non-members are also welcome. Event details can be found on the IQ events page where you can also subscribe for updates.
We also host an annual health and safety seminar, plus two very successful social events; The Golf Day at Radyr Golf Club and the Christmas Dinner Dance at the Marriot Hotel in Cardiff City Centre.
To celebrate the centenary of the Institute of Quarrying, the South Wales branch held its first Summer Ball at the Bear Hotel in Cowbridge on the 21 July 2017. We heavily subsidised the event to encourage both individual members and companies alike to join in with the 100 year celebrations. The Ball was such a success that many of the attendees suggested that this should be a regular event in the branch's calendar of events.
Key events
Wednesday 8th November 2017, 9.30am: Technical Meeting - Knowing Your Legal Rights, by Browne Jacobson, National Law Firm
Wednesday 13th December 2017, 6.00pm: Technical Meeting - HSE Hot Topics, by Cath Pickett
Wednesday 10th January 2018, 9.30am: Technical Meeting - Screening, by Blue Machinery
Wednesday 7th February 2018, 6.00pm: Technical Meeting - Blasting, by Mark Pegdon ECP
Wednesday 14th March 2018, 6.00pm: AGM & IQ update
Wednesday, 11th April 2018, time TBC: Site Visit to Aberthaw Cement Works
Wednesday, 9th May 2018, time TBC: Safety Day
How can I get involved?
Anyone who is interested is welcome to join the technical evenings or visit our website www.quarrying-swales.co.uk.
Chairman
Simon Swinford
Mobile: 07557 418496
E-mail: husky410@btinternet.com
Vice Chairman
Nicola Bartholomey
E-mail: nicola.bartholomey@tarmac.com
Secretary
Brett Morris
Mobile: 07841 569218
E-mail: brett.morris@cnhind.com