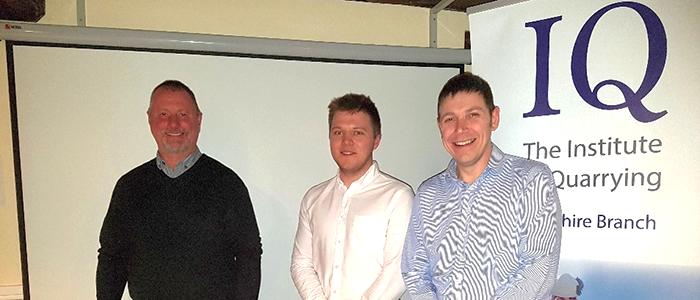 Left to right: Peter Skinner (MES Northern Group Chairman), Matt Parsons (Sirius Minerals), Steve Curtin (IOQ Yorkshire Chairman).

Our largest turnout for many years met recently in Doncaster for a presentation by Matt Parsons of Sirius Minerals on their planned new mine in North Yorkshire.

Matt described the financial drivers for the development of the mine, which will work by far the largest known deposit of polyhalite in the world. Preparation works, including infrastructure improvements and further geotechnical investigations are due to begin imminently.

Matt explained the importance of high quality fertilisers to a rapidly growing world population, emphasising the benefits of the low chloride content over traditional mined fertilisers such as potash. The polyhalite is rich in four key plant nutrients, sulphur, potassium, magnesium and calcium. Extensive agronomic and commercial research has been carried out in conjunction with leading universities and research institutions to prove the benefits of polyhalite and secure mine development funding.

The mine site is located outside the village of Sneatonthorpe, between Whitby and Scarborough in North Yorkshire. The project plans to construct two 1,500-metre shafts to reach the mineral seam which is up to 80-metres thick and includes a mineable area of around 25,200 hectares. The total resource within the main area of interest is in the region of 2.66 billion tonnes. The mineral will be mined in galleries using specially adapted mining machines capable of cutting the polyhalite, which is a much harder mineral than normal evaporites such as halite or sylvanite. Initially the mine will produce 10million tonnes per annum ramping up to a predicted 20million tonnes pa.

The mined polyhalite will be raised up the shaft to a staging level where it will then be conveyed along a 36km long tunnel to the mineral processing plant at Wilton on Teeside, where the raw polyhalite will be granulated to form the final product. The pelletised product will then be dried and stored ready for shipping from one of two berths capable of handling high capacity Panamax ships.

At the end of his presentation Matt fielded questions from the floor on topics ranging from engineering to reserve geology.

In his closing remarks Matt acknowledged that the group had been the most challenging and informed audience he had ever presented to.

Peter Skinner, Northern Group Chairman, closed the evening and Matt was thanked in the usual manner.