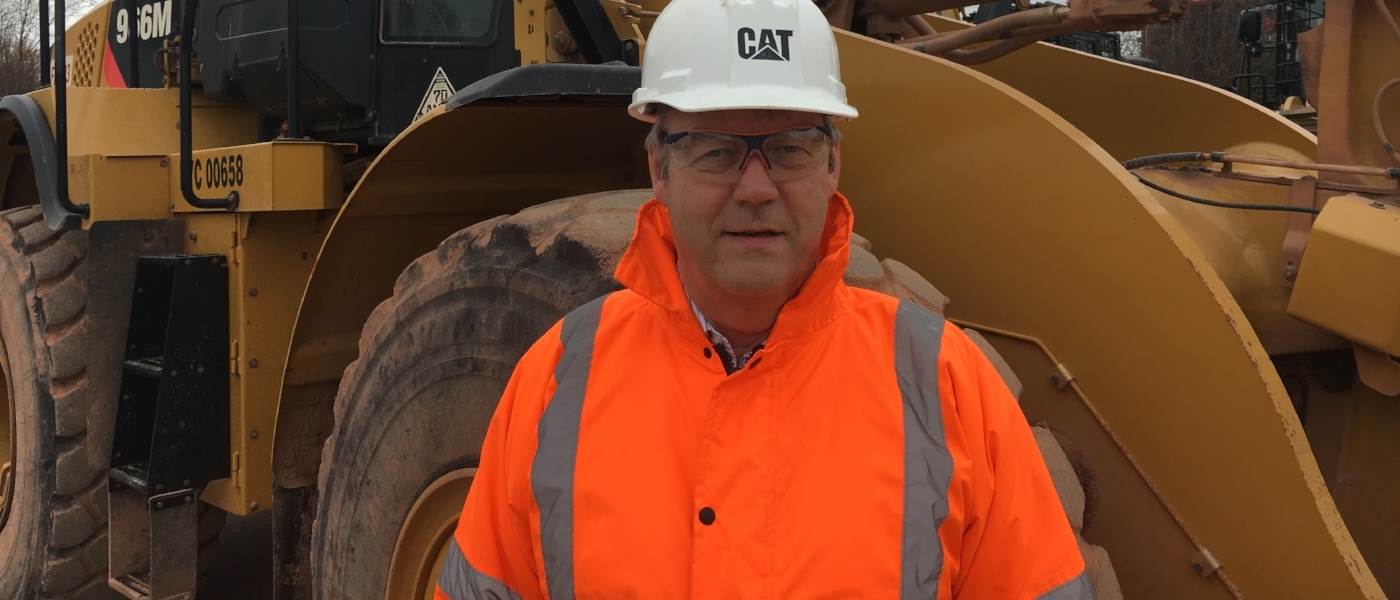 Quarrying is a large industry within the South West, with some of the major quarrying companies having flagship operations based here. There are large deposits of limestone and basalt throughout the Mendip Hills; granite and china clay in Cornwall; and ball clay in Devon.
Newly elected chair of the West of England branch,
Mark Hughes
, is IQ 'Member of the Month' for March. With four decades of industry experience to his name, he strongly believes the quarrying industry is a great place to work.
About Mark
Mark Hughes is a Customer Account Manager with Finning UK & Ireland and is responsible for managing quarrying, clay extraction and waste accounts based in the South West. A typical day involves several customer site visits consisting of equipment and account management reviews, machine inspections, site surveys, production studies and putting any required quotes or advisory documents together.
From a young age Mark knew that a career involving quarrying was for him. Leaving school in 1976, he was interested in mechanical engineering so decided on an apprenticeship with Bowmaker (Plant) Ltd, which was later acquired by Finning, was his destined path. Since then his career has seen him work abroad in Dubai for Al Futtaim Wimpey Construction and progress from a role in mechanical engineering into sales consultancy.
Mark has now worked for Finning, the world's largest Caterpillar dealer, since 1987. He strongly believes the quarrying industry provides a job for life and is a great place to work, with many diverse opportunities and support networks.
"When I made the transition into my current role I decided to enrol as a member of the Institute of Quarrying (IQ) to broaden my knowledge of the quarrying, clay extraction and waste industries. The support from IQ is second to none, with countless continuing professional development (CPD) opportunities on your doorstep. Becoming a member has allowed me to network with my customers; better understand the local quarries and their requirements; provided opportunities to update my knowledge on health and safety requirements; and given me an insight into the large projects that the sector serves."
West of England Branch
Since enrolling in 2008 Mark has attended most of the West of England's branch meetings, technical evenings and safety days as well as taken part in a variety of social events such as golf days and dinner dances.
"Technical evenings are a great place to learn and we generally start the
programme with a Health & Safety evening. Over the years we have had many successful technical evenings on subjects such as Managing Investigations, QNJAC and its importance to the industry, Qualification Developments in the Quarrying Industry and the application of drones to blast engineering to name just a few. We also invite a local speaker to join us at our AGM to talk on local subjects such as Airbus, Clifton Suspension Bridge, Bristol Ports etc."
How can I get involved?
"I would encourage members to try and attend all the technical evenings
and functions that we hold and I would also like to see some of the members
join the committee as fresh faces bring new ideas to the table."
For any members in West of England looking to get involved with their local branch, or to find out more about our future events please contact:
Chairman
Mark Hughes
mark.hughes@finning.com
Vice Chairman
Steve Davies
steve.davies@aggregate.com
Secretary
Val Isaac
v.isaac@btinternet.com