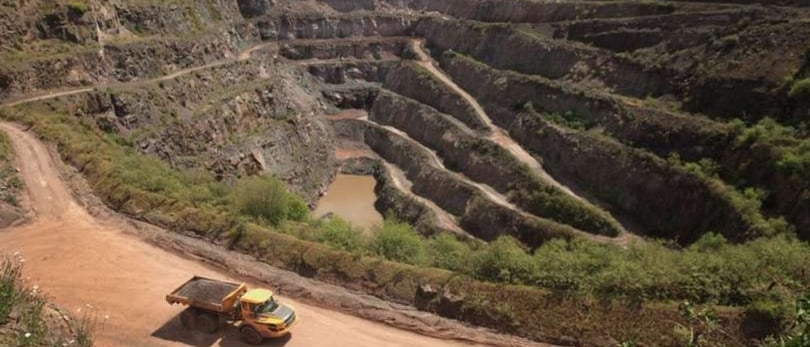 The West of England has a long and illustrious history of mineral working; not only for use as aggregate but also for industrial purposes, brick manufacture, building and walling stone, lime and in steel manufacture.
Key resources
The West of England's mineral activity is very varied, including major deposits of Carboniferous Limestone, a unique Andesite (Basalt) intrusion and Oolitic limestone, as well as sands and gravels. These supply a diverse range of products to the construction industry from high PSV road surfacing, concrete and asphalt aggregates, plus general construction materials.
Key operators
In our region active and inactive quarries are managed by multinational operators including Tarmac, Hanson, Aggregate Industries and CEMEX. There are also many independent family businesses such as John Wainwright, Hills of Swindon, Raymond Brown and Suttles. The Branch is also well supported by a loyal number of companies from the industry supply side.
Key sites
The quarries in the region are wide-ranging in scale and type, as can be seen from the following examples:
Whatley Quarry and Torr Quarry are both large rail-connected limestone quarries with long histories. They both produce high quality limestone used in asphalt and concrete manufacture. On a daily basis several train loads of aggregates of up to 4,000 tonnes leave the quarries to supply the construction industry in Southern and South-East England. These two quarries, alone, have a combined potential to supply more than 10 million tonnes per year.
Moons Hill Quarry is a unique igneous rock quarry with high skid resistance, making it ideal for road surfacing and many other uses. The quarry has been family owned since 1891.
Huntsmans Quarry is an Oolitic limestone quarry in the Cotswolds that supplies a range of materials, including building and walling stone, as well as specialist aggregates.
Sand and Gravel: There are a number of sand and gravel quarries in the area. Many are based in the Cotswold Water Park, which features an exemplary array of restored lakes with uses ranging from leisure to housing and commercial development.
Key events
The Branch Committee organises regular networking events for the benefit of local members in and around their region. These include technical evenings, seminars, and other CPD events. To take a look at some of the events on offer to members on the IQ events page where you can also subscribe to event updates.
How can I get involved?
For further information concerning the West of England branch and how you can get involved in local events, please contact The Institute of Quarrying on 0115 972 9995 or mail@quarrying.org.
Chairman
Peter Mole
Peter.Mole@aggregate.com
Deputy Chairman
Mark Hughes
mark.hughes@finning.co.uk
Secretary
Val Raydon
v.raydon@btinternet.com