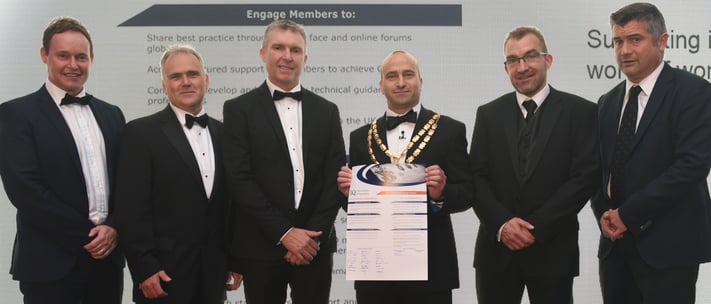 Martin Riley - Tarmac (Far left), Neil Farmer – CEMEX UK, Daniel Cooper - Hanson, Miles Watkins - IQ President, Ben Williams – EPC-UK, François Pétry - Aggregate Industries.
Creating a quarrying and mineral extractives sector future proofed for the next 100 years is the goal of a new skills pledge launched by membership body the Institute of Quarrying (IQ) at this year's 'Inspiring for Generations' annual conference in Sutton Coldfield.
The Centennial Pledge is a two-way initiative developed by IQ in consultation with businesses representing both smaller, independent operators and large multi-nationals. Its ambition is to engage everyone involved in the mineral extractives supply chain - from extractors to contractors, apprentices to managing directors.
James Thorne is IQ's chief executive. He joined the Institute at the start of its centenary year. He says: "We are immensely proud of our heritage and the contribution of our members over the past 100 years. That's what 2017 has been about - celebrating our heritage and our success.
"Now it's time to look forward and set out our stall for the next 100 years. It has been a fantastic opportunity to take stock of how far we've come and now we need to look at where we want go."
"The industry has seen many changes through the last 100 years and the advances in practice, technology and machinery have seen our members adapt and develop their skills to meet those changes. Our membership reflects that the industry has a diverse range of roles and opportunities and the IQ remains committed to supporting them achieve their ambitions."
The Centennial Pledge sets out IQ's commitment to the quarrying and mineral extractives industry in how it will support the profession. Likewise, the Pledge is also a commitment from industry to support IQ and its mission.
IQ's commitment is enshrined in its pledge to support career entry and young professionals. This will be achieved by creating dedicated support and resources for students and apprentices, including a new Young Professionals Network for networking and sharing of best practice. A clear, structured pathway to achieve Member of IQ (MIQ) status will also be developed, plus a Mentoring Scheme.
James Thorne continues: "As an industry body we must continue to be relevant to all of our members. As part of our Pledge we will share best practice through face-to-face and online forums globally, provide structured support to achieve CEng, as well as consulting on, developing and shaping new technical guidance for professionals. That's all about ensuring our members receive best value, both in the UK and internationally."
The final part of IQ's Pledge focuses on developing standards and education. This will be achieved by carefully aligning its educational programmes with industry needs, including developing and growing its CPC and PRIME schemes. Support will be provided to organisations to embed the IQ membership pathway in apprenticeship and graduate schemes, whilst the IQ Skills Wheel will become the benchmark for competence and capability across the sector. IQ will also collaborate with sector stakeholders to support and share the work of QNJAC.
In return, industry will commit to supporting IQ development by ensuring all relevant employees become IQ members with a target of achieving 5000 members in the UK by 2021. Supporting students and apprentices to become members and encouraging employees to progress through membership grades. Industry will also become a free-flowing source of case studies and examples of best practice accessible to IQ members, provide speakers and support IQ events and engage in research and share innovation to help develop the profession.
Thorne concludes: "This is a symbiotic relationship between IQ and the industry. We are all working towards the same goals and working in partnership is a big part of our value proposition. By supporting IQ standards and education we can better address employer needs.
"We still admire what our counterparts achieved when they created IQ 100 years ago. I hope that when our members celebrate our bicentenary that our Pledge is held in high regard as the foundations for another century of success."