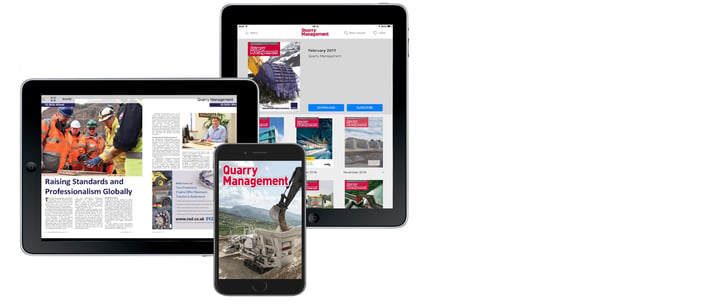 The Institute of Quarrying (IQ) and The QMJ Group have launched a new online platform offering dedicated IQ content for audiences in the quarrying and related industries.

The hugely popular Agg-Net site has been extended to include the new monthly IQ Branch blog, which features a roundup of everything happening in the featured region including the latest news and events and information on how to get involved.

Also featured on the Agg-Net IQ pages is the monthly President's column from Quarry Management magazine and a special area for the IQ Academy. The IQ Academy page lists all the upcoming courses for those who want to gain further knowledge or training as part of their CPD programme.

For more information on the IQ platform, visit www.agg-net.com/institute-of-quarrying.

As part of these new developments, IQ members can now access digital copies of Quarry Management magazine through the QMJ app for free. The benefit for IQ members in using the app is that they can get access to the magazine before the printed edition arrives through the post, all the back copies of the magazine are available and are fully searchable. So it's now much easier to find those useful, important articles you might want to refer back to.

James Thorne, new CEO for the Institute of Quarrying said "In this our centenary year its important to make sure that we continue to deliver value for members. By embracing new technologies we are offering choice as to how members choose to engage and communicate with us."

The other benefit to IQ members of the QMJ app is that the username and password to access the free content is the same as their details used for the IQ CPD app. The IQ CPD app allows members to easily record and view their CPD activities as part of their membership requirements.

To download the QMJ app, search for 'QMJ' on the App or Google Play Store. For more information on how to install the QMJ app, visit www.agg-net.com/quarry-management-app-for-iq. The IQ CPD app can be found by searching 'IQ CPD'.