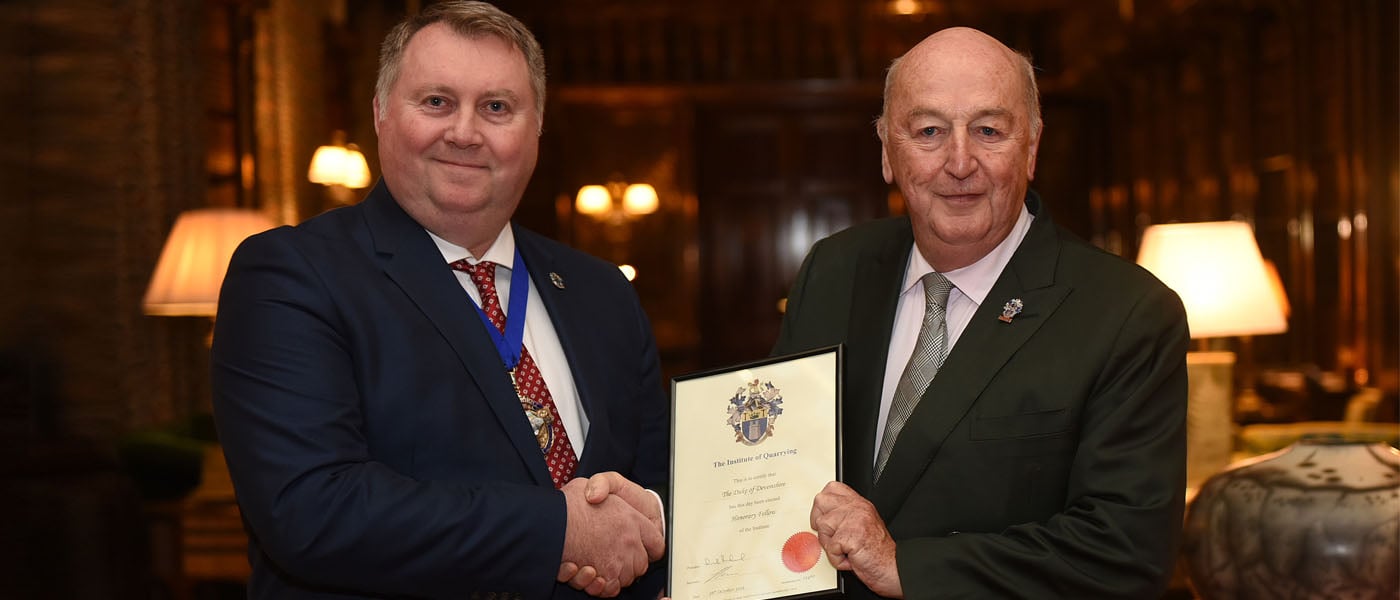 In recognition of his contribution to the minerals extractive sector, the Institute of Quarrying (IQ) today presented the Duke of Devonshire with an honorary Fellow of the Institute of Quarrying (FIQ).

IQ president Phil Redmond presented the honorary title to the Duke at his Chatsworth home in Derbyshire, on behalf of all IQ members. The award reflects the Duke's overall support for the quarrying sector and his role in extraction from quarries that are worked throughout Derbyshire.
In accepting his FIQ, the Duke said: "It is an absolute honour to receive this award. My family has been involved in the extractive sector for generations, working various minerals and providing valuable employment to local people. Indeed, the stone used to build this beautiful home house was extracted from Burntwood Quarry, just down the road from Chatsworth at Beeley. It's the same stone that was also used to great effect in the IQ Quarry Garden last year at the first RHS Chatsworth Flower Show.
"We were given permission to reopen the quarry so that we could undertake a major programme of restoration on the house, which has taken 10 years to complete. It has involved stone masons and craftspeople all working tirelessly to bring the house back to its original glory."
IQ president Phil Redmond adds: "The Duke of Devonshire is a keen supporter of our sector. He has been a valued partner in recent years, with his role as IQ Patron in our centenary year and his enthusiasm for the Quarry Garden hugely appreciated by all members of IQ. It was a personal privilege to present him with his honorary FIQ against the stunning backdrop of Chatsworth today.
"Every visitor to this wonderful house is an indirect beneficiary of what our invaluable industry does day in, day out, providing raw materials that make people's lives better."
A short film of the Duke of Devonshire receiving his honorary FIQ will be shown at the Fellows Lunch at the Tower of London on Friday 26th October.