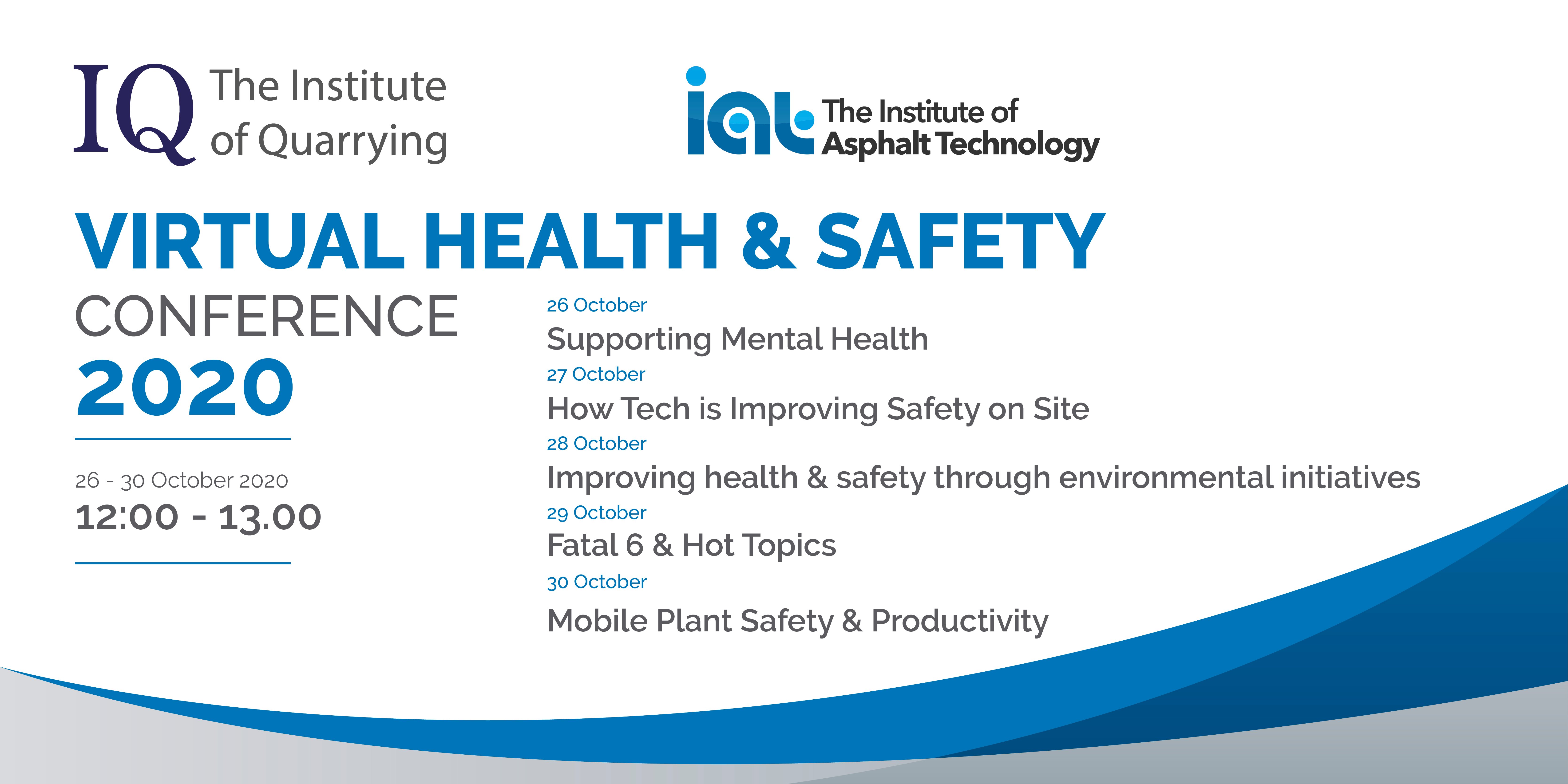 Professionals working in quarrying and asphalt sectors are invited to attend a virtual conference dedicated to the latest thinking and advice on health and safety, with presentations to be delivered from industry experts.
Organised by the Institute of Quarrying (IQ) and Institute of Asphalt Technology (IAT), the digital conference is designed to fit in with professionals' busy working days. Running from 26-30 October, between 12.00-13.00, each day will focus on a different theme and consist of two presentations lasting 25 minutes.
With limited spaces available, the 'IQ & IAT Digital Health & Safety Conference' will provide attendees with valuable continuing professional development (CPD). It is also a great opportunity to share knowledge and experiences relating to current affairs and on-site scenarios.
James Thorne, IQ CEO, says:
"This is the first joint venture between the Institute of Quarrying and Institute of Asphalt Technology since signing our new memorandum of understanding. We're overwhelmed with how much interest it has already received, with places to the event filling up quickly. With restrictions in place due to COVID-19, we've adapted the conference in a way that's accessible and relevant to the way people consume information in today's digital culture. We hope the added CPD value of live discussions will replicate what members are used to at a traditional branch event."
Topics across each day include:
Monday 26 October: Mental Health - supporting colleagues returning to work post-Covid 19, hosted by Viv Russell, Chair of QNJAC & MD Longcliffe Group, and presented by James Quinn, President Elect IOSH.
Tuesday 27 October: Technology - how its use can improve safety onsite, presented by Ruari Charlesworth and Jon Parker, Flyby Technology.
Wednesday 28 October: Environment - making the connection between being sustainable and health and safety, presented by Bob Noakes and Bob Crawford, Fero Consulting Ltd.
Thursday 29 October: Fatal 6 and Hot Topics - chaired by MPA and joined by HSE inspectors.
Friday 30 October: Mobile Plant - operating for safety and productivity, hosted by Tony Sewell, President of the Institute of Asphalt Technology, and presented by Martyn Luby, Volvo.
The event is open to anyone working in quarrying and asphalt sectors. Click here for more information and to register.