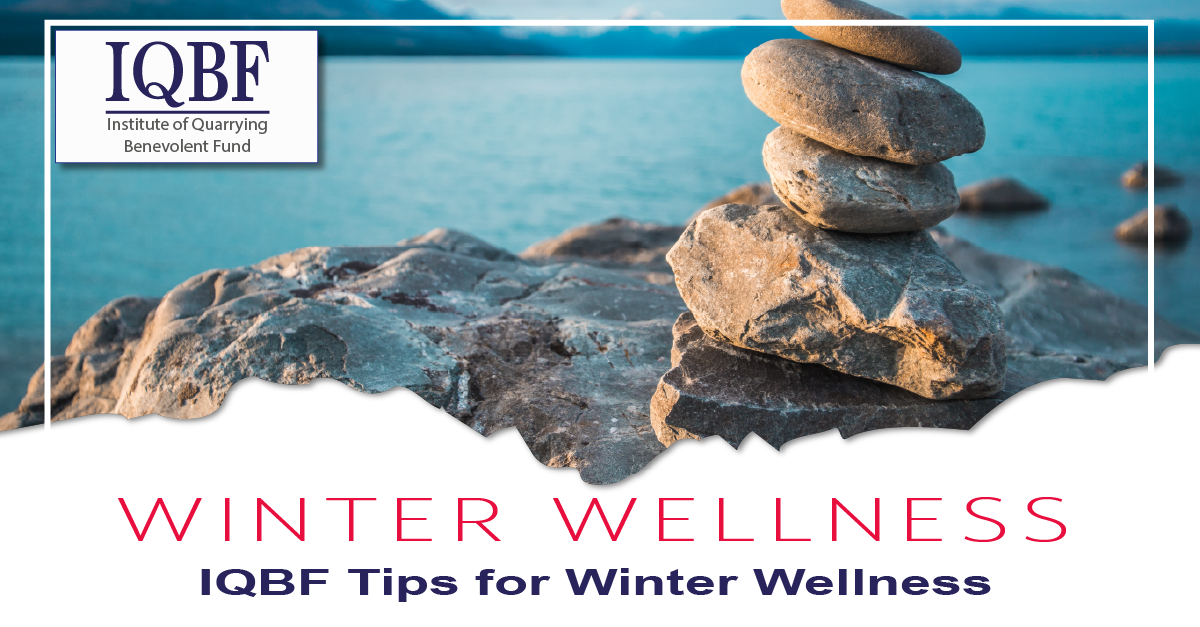 Short days and the colder weather mean many of us struggle with our health and wellbeing during the darker winter period. Its also a time when colds and flu are more virulent which contributes to our low energy levels and general feelings of running low.
So its important to take special care of ourselves at this time of year. IQBF has gathered some advice and tips on things you and your family can do to keep healthy at this time of year.
Relationships
Valentines Day is a celebration of love and affection enjoyed by millions across the globe. But for others, the combination of the recent festive season and the continued lockdown has put a strain on relationships.
It is said that the first working day after the festive period is known by divorce lawyers as 'national divorce day' as a spike in enquiries from couples who have vowed never to share another Christmas cracker together make contact.
Whether this is true or not, the ongoing pressures of lockdown including furlough, home schooling and working from home has meant many couples are spending far more time together than usual. Add to this the long, cold winter months and it is no surprise that relationships have been under closer scrutiny than before.
Others may have found their relationships suffering because the lockdown has kept them apart. Lack of physical contact and distance can combine to cause an emotional disconnect between couples.
Relationships need sustaining without the barriers caused by the pandemic. The organisation Relate are the UK's largest provider of relationship support and have put together a lot of advice about how to support relationships impacted by Covid-19.
There is evidence to suggest that the incidences of domestic violence and abuse have increased during the pandemic. The government is aware of the increased risk of abuse occurring and has made it clear that national lockdown rules do not apply for anyone leaving an abusive relationship. The Gov UK website has good information for anyone in an abusive relationship or if you are worried about anyone in a relationship.
The most important message for anyone in an abusive relationship is that they are not alone. Refuge provides help via their website and they also have a 24-hour freephone number 0808 2000 247 to support those seeking help.
Childrens Mental Health
Children are resilient, but their short lives have changed significantly as a result of the pandemic which in turn will have had an impact on their mental health.
Home schooling has become the norm and can cause a strain on both parents and children. For children, being at school is such a big part of their social development and many have been away from that environment for long periods of time. Social time with friends has also become virtual but for those where the technology is not available to support that interaction, children may be feeling very lonely.
Social distancing and lockdown rules will mean they are unable to see their extended family in the usual way. There will be children who have experienced family members who are or have been ill which could add to any anxiety they are facing. And there will also be those that have sadly lost people close to them.
The national child protection charity NSPCC has Coronavirus resources to help support parents and carers.
Children's Mental Health Week focuses on the power of creativity in helping children communicate how they are feeling. The website has good advice and a range of activities for parents and carers to access to support children's mental health.
Sleep
If you have ever felt sleep deprived, you will know how difficult it is to focus on the most mundane of tasks which can lead to accidents. A lack of sleep will also have a detrimental effect on our immune systems which makes us more vulnerable to cold and flu viruses. When we feel stressed or anxious this can lead to a disrupted sleep pattern and can be a symptom of mental health issues.
Try to stick to a bedtime routine and try to reduce screen time of any sort before lights out. Perhaps read, listen to a story, gentle exercise, meditation, or listen to relaxing music. Some people are more sensitive to the effects of caffeine and alcohol both of which can impact on sleep and the ability to 'switch off'.
For more on the importance of good sleep check out this presentation by Dr Neil Stanley and for tips to get back to a good nights sleep, have a look at our Sleep Guide developed by Sleepstation.
Exercise
Getting outside, even just for 30 minutes, has a hugely positive effect on our mood and wellbeing. During lockdown periods, many people realised the benefits of getting out to their local parks, exploring their own environment or even just being out in their own gardens. Combined with walking it is a great way to exercise, get a top up of Vitamin D and can be a socially distanced activity with friends and family.

Find a new local walk, there are plenty of websites that might help you find things on your doorstep you didn't know was there!

Diet
The importance of a balanced diet is well reported for supporting good physical and mental health. The idea that we have 3 good meals a day that includes 5 portions of fruit and veg can be difficult to achieve every day for all sorts of reasons. Aim for a balanced diet over a week or so that less healthy days are balanced out. There is great advice on how to achieve a balanced diet on the NHS website.
The charity for better mental health, Mind, also has great advice and tips to improving your diet to improve your mood.
Drink
It is so important to keep hydrated at all times. It helps hydrate your brain, your organs, your skin, as well as flushing out any toxins and maintaining your digestive system. As a basic guide, most people need about 1.5 to 2 litres of fluid a day, which is about eight to 10 glasses.
You can get this from water and other drinks, such as milk and fruit juice. Water in food also counts – raw fruit and vegetables (for example cucumber, lettuce, tomatoes, watermelon) contain lots of water. Drinks like tea and coffee can be a source of hydration but moderate your intake, particularly later in the day as the caffeine could impact your sleep. Fruit juices, sports drinks and other fizzy drinks contain sugar so should also be used in moderation.
The NHS Eatwell guide has information about staying hydrated along with other advice about maintaining a balanced diet.
Work
We understand that excessive pressure and demands at work can cause stress. Working from home can provide advantages for many including a better work-life balance through a reduction in time spent commuting. For others the routine of going to work and mixing with colleagues is something that has been difficult to adjust to. Without steady schedules, the lines between work and personal time can get blurred and cause stress and fatigue.
Whether you have been adjusting to working from home or have returned to your usual place of work, there are plenty of resources to make sure you are working safely for both your physical and mental wellbeing.
IQ members who have installed the IQ Connect app also have access to a range of resources on working safely from coronavirus guidance to mental health awareness.
Acts of kindness
"No act of kindness, no matter how small, is ever wasted." Aesop
Receiving an act of kindness from a friend, a relative or a stranger is a wonderful thing and can make you feel appreciated and cared for. Doing an act of kindness similarly brings you positive benefits.
Throughout the pandemic many people have experienced periods of sustained isolation and Christmas may be difficult for those separated from family and friends. The Mental Health Foundation has some ideas for simple acts of kindness that can be carried out for both your own benefit and that of others.
If you need help
We all find things overwhelming at times and there is no shame in it. The pandemic has brought with it a heightened understanding and awareness of our mental health and mental wellbeing.
There is far greater recognition from our employers that if our mental health is suffering in any way that our productivity will suffer too. Check with your organisations to find out what support is available to you through them. Some have Employee Assistance Programmes that can offer counselling, advice and information on lots of different issues, others may offer a counselling service.
However, if you can't access or don't want to access support via your employer, there are many other organisations that can offer help:
Shout 24/7 texting support if you are struggling with mental health issues.
Campaign against living miserably (CALM) orientated towards those who identify as male. Helpline or online webchat offering support, advice and signposting to various organisations that can help on specific issues.
The Samaritans for anyone feeling suicidal or worried about someone else who might be.