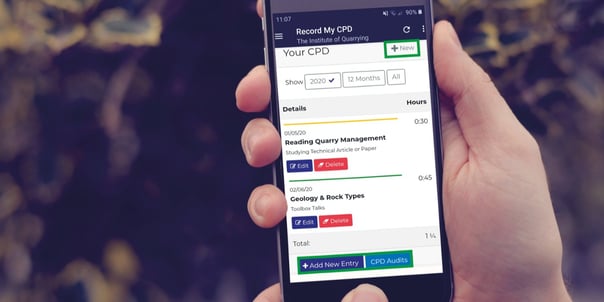 The recent successful IQ and IAT Digital Health & Safety Conference provided the perfect opportunity for the Institute of Quarrying (IQ) to test a new CPD recording facility.
Members who registered to attend sessions and then listened live to each event have had the CPD activity automatically recorded. All members are required to do is log in to the member portal or access their CPD record via IQ Connect to complete the 'what was learned' section and the CPD activity will be submitted.
Sarah Fry, IQ's Head of Membership and Marketing, said: "This is a great step forward in helping our members meet their CPD requirements for membership. It's been developed as part of a new event booking system that will benefit members with a streamlined booking process linked to their CPD record and we hope will encourage more members to attend live virtual branch events."
The automatic recording feature will apply to events scheduled through the new event system. By logging into the member portal or by accessing events via IQ Connect, members will have a one-click registration for events they wish to attend. When they attend the virtual event, this is also recorded in the system and automatically updated to their CPD record.
Sarah continues: "The pandemic has brought new ways of working for everyone and the branches have worked hard to adapt their technical events to an online format. This new system recognises that those who attend live events are able to interact with others, ask questions and gain valuable learning.
"Whilst branch events will continue to be recorded and distributed to all members, the system can only recognise those who have attended live. Those that watch the event at a later date can still claim the time as CPD but will have to add this manually to their CPD record."
Members who attended the recent Digital Health & Safety Conference are encouraged to log in to the membership portal or via IQ Connect to check their CPD records and complete their learning activity.
Anyone with any queries should contact Debbie White, Membership Officer, on 0115 972 9995.