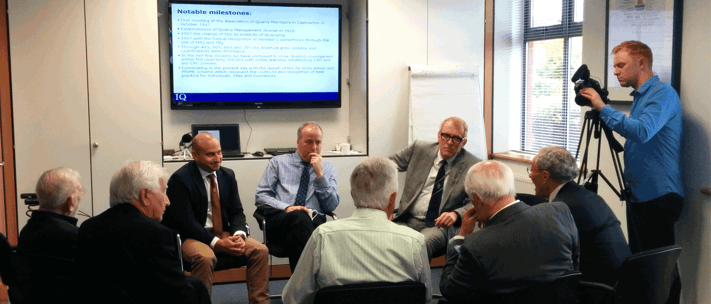 Past presidents and members with over 400 years combined membership of the Institute of Quarrying (IQ) reunited at its Nottingham headquarters to share experiences and memories, as part of IQ's centenary celebrations.
The group of 10 travelled from a variety of UK branch regions, including Yorkshire, Wales, West of England and the Midlands to meet IQ CEO James Thorne and his team for the centenary event.
Commenting on the day, Miles Watkins, IQ president, said: "The Institute of Quarrying has such a rich history and it was an honour to celebrate this today with some of our past presidents, who travelled from all across the UK to come and share their IQ memories with us.
"Our centenary year is all about celebrating how far IQ and the quarrying industry has come over the last 100 years. What better way to tell this story than from those who have spent their working lives as IQ members and part of the quarrying community?"
Martin Isles, West of England branch, who joined IQ in 1975, said: "My experience with the Institute of Quarrying has been invaluable. Throughout my career, IQ has provided me with the vital stepping stones that eventually led to be becoming president of the institute in 2010.
"In particular, IQ has contributed enormously to improvements in health and safety and I am very proud to have been able to focus upon this during my presidency".
"It has been fantastic to meet with some of my fellow past presidents today to catch up and share my IQ journey with the current team".
IQ is marking its hundredth year with a series of high profile member and public events designed to share the essential role the quarrying and mineral extractive sectors fulfill in our everyday lives.
IQ's stand out centenary event is its Quarry Garden at the very first RHS Chatsworth Flower Show this summer. The garden, set to be the largest at the show, is the work of award-winning garden designer Paul Hervey-Brookes.
For more information on the Quarry Garden visit https://www.quarrying.org/about-quarrying/quarry-garden or follow the #QuarryGarden hashtag on Twitter.