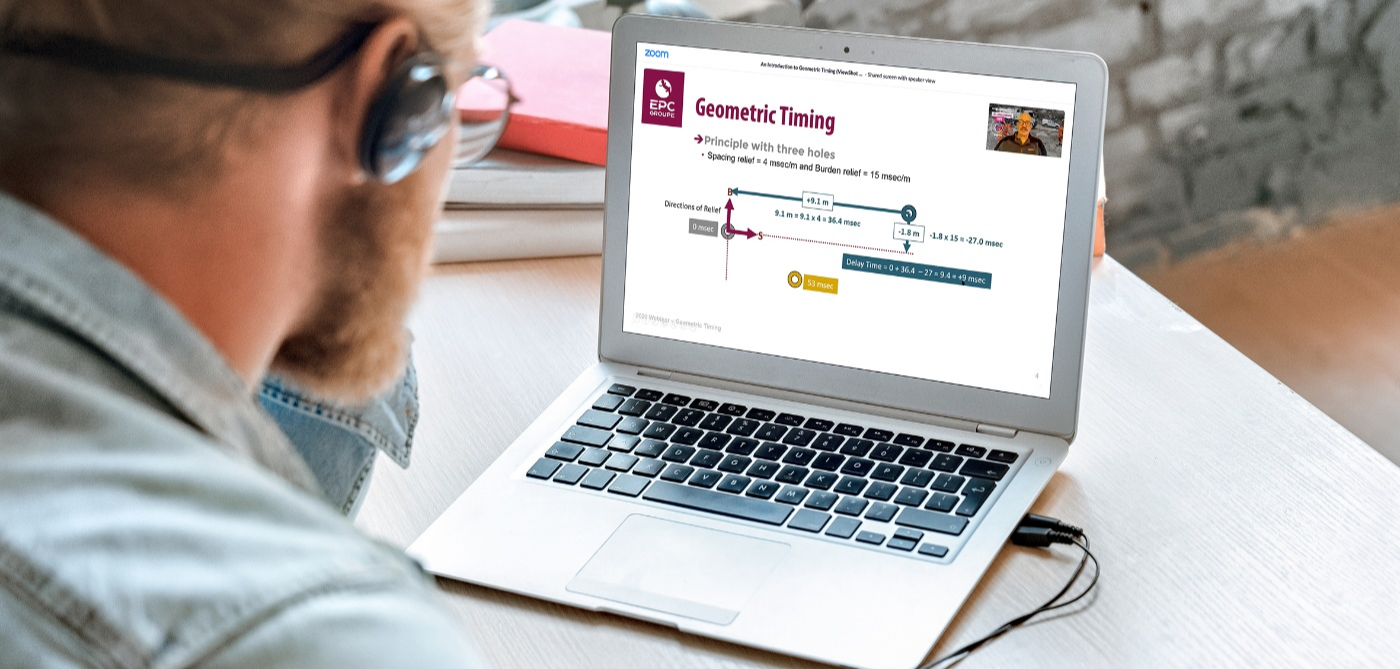 EPC-UK's innovative 'Lifelong Learning Live' programme has proved to be an invaluable addition to the company's training portfolio. Launched in May, the initiative, which is specifically designed to ensure the continuity of learning during these challenging months, has attracted numerous individuals from across the sector, providing them with an opportunity to gain industry-recognised qualifications from a distance.
Delegate feedback from the initial course has been extremely positive, with comprehensive content and the interactive nature of the sessions being highly praised. The flexibility of the 'Lifelong Learning Live' programme, allowing people to learn at their own pace in their own environment, has also been highlighted as one of the key contributing factors to delegates both beginning, and being able to complete, the course.
Ryan Ward, Commercial Manager at EPC-UK, was one of the first to attend the 'Explosives Awareness' course, whilst he was furloughed:
"COVID-19 is having a significant impact on the way we operate all aspects of our business. Moving its courses and training content online, has allowed EPC-UK to provide a continuity of service to the industry and enabled people like me to continue our educations.
"From a learner's perspective, the course was concise and extremely interactive, with polls, question and answer sessions, and discussions. The professionalism and quality of content was in no way diluted by being taken 'online'. Rob Farnfield, who led the course, was clear, understandable, and delivered the webinar with his usual humour, maintaining that personal interaction which EPC-UK believes is so important.
"Overall, I am extremely impressed and pleased to be able to be one of the first to experience these courses in their new guise."
The feasibility of delivering practical sessions from a distance has been a concern for some delegates. However, as Dr. Liam Bermingham, Explosives Engineer with EPC-UK who also took part in the initial 'Lifelong Learning Live' course, explains, this did not deter from the quality of training:
"The course content delivers all the knowledge that is necessary for someone to effectively carry out their duties. Theoretical knowledge is often expanded on by discussing applicable real-life scenarios, enabling students to form a clearer understanding.
"I was hesitant on how the class practical sessions would be handled, with it being a virtual classroom, however interaction with the presenter is easily achieved. Overall, I feel that virtual learning is the future of education and development, as all teaching can be delivered easily through video conferencing software."
EPC-UK's blasting focused courses are accredited by the Institute of Quarrying (IQ) and as such, the 'Lifelong Learning Live' webinars carry the same accreditations. To provide the IQ with first-hand experience of this new delivery method, EPC-UK invited Julian Smallshaw, Head of Education and Standards at the IQ, to join the course.
"Class leading content and Rob Farnfield's explanations made the two-hour sessions fly by," explain Julian. "At the conclusion of each module a quiz reinforced the learning outcomes and questions could be asked during delivery if required. At the end of each session Rob was available to answer any outstanding issues.
"The complete package of forward delivered course notes, presentations, exercises, and professional advice means the course can fit around your job and location which is a winning combination."
EPC-UK is now preparing to launch its second phase of 'Lifelong Learning Live' courses. Shotfiring, Explosives Awareness and Miscellaneous Mines courses will begin on the 7th July, and the Explosives Supervisor course will start on the 9th September, with all running every Tuesday and Thursday for six weeks.
"We were confident that our 'Lifelong Learning Live' programme would work successfully, but we have been amazed by how well it has been received," comments Ben William, EPC-UK Managing Director. "Here at EPC-UK we are passionate about the continued development of our industry and those who work within it, and the provision of high-quality education and learning is key to this.
"The aim of 'Lifelong Learning Live' is to ensure individuals can continue their education wherever they are, as well as open up our courses to a wider audience, both nationally and internationally - and I believe we have achieved this. I am extremely proud of the EPC-UK team which has succeeded in creating an industry-leading, innovative educational programme, under extremely testing circumstances."
Further information about the 'Lifelong Learning Live' programme and details on how to reserve a place on forthcoming courses can be found at https://www.epc-groupe.co.uk/training/ or by calling 01773 832 253.