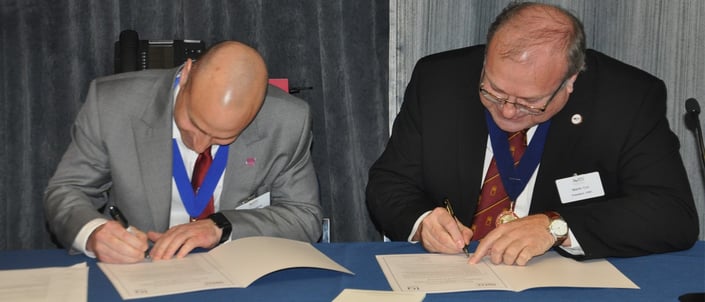 The Institute of Quarrying (IQ) were pleased to attend upon the recent key event in the calendar for the Institute of Materials, Minerals and Mining (IOM3) at their London headquarters 4th April 2017.

With roots dating back to 1869, IOM3 is a major UK engineering institution whose activities encompass the whole materials cycle, from exploration and extraction, through characterisation, processing, forming, finishing and application, to product recycling and land reuse. A leading authority in the worldwide materials and mining community, IOM3 exists to promote and develop all aspects of materials science and engineering, geology, mining and associated technologies, mineral and petroleum engineering and extraction metallurgy.
Gathering to celebrate the Presidential handover from former President Mike Hicks FREng FIMMM FRAeS to incoming president Martin Cox CEng FIMMM, the medal ceremony was well attended by a strong turnout of trustees, fellows and special invited guests from other associations.
The day was also key milestone for strengthening the working relationship between the IQ and IOM3 in the signing of the Memorandum of Agreement between the two Institutes, enhancing ties between key bodies within the sector and paving the way for future partnerships.
The agreement sets out a landmark stride in providing an important step forward in supporting IQ members on their pathway to achieving the recognition of Chartered Engineering status. Whilst additionally opening the doors to further opportunities for closer collaboration on events and activities to the benefit and interest of members from both organisations.
Dr Miles Watkins, President of the IQ commented: 'This is a key milestone in the history of the IQ, and fitting for this to be in our Centenary year. As we look back and celebrate what the IQ and our members have achieved over our 100-year history, we are setting out our ambitions for ensuring we continue to assist in the development and growth of our members and shape a unified voice to represent the industry and our colleagues'.