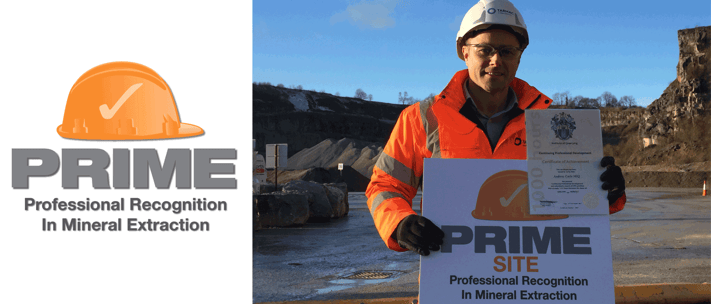 Tarmac's Dene Quarry in Derbyshire is the latest mineral extractives operation to achieve Professional Recognition in Mineral Extraction (PRIME) status from the Institute of Quarrying (IQ).
IQ's PRIME initiative promotes continuing professional development (CPD) at all levels within the mineral extractives sector. Its objective is to achieve a fully competent workforce by identifying and providing continuous career progression pathways.
Dene Quarry is a limestone aggregate quarry situated in the historic village of Cromford, Matlock. It restarted extraction approximately two years ago. Ongoing site developments have been acknowledged by IQ with the site achieving PRIME status at the start of December 2017.
James Thorne, IQ's CEO, says: "This is great news for everyone at Dene Quarry and reflects the importance placed on professional development at an operational level within the quarry, as well as at the highest levels within Tarmac."
Andy Caile is Quarry Manager at Dene Quarry. He entered the industry as an apprentice quarry fitter and was one of the first to register for Technical Member of the Institute of Quarrying (TMIQ) in 2014. He has now completed over 1000 hours of CPD: "Everything I've learned through the CPD scheme I've applied to the site. When I was appointed quarry manager it was the start of a completely new challenge, but as a team we've focused on getting things right. Restoration work on the site is taking place; signage has been added; traffic management runs smoothly; and crush sales have increased to 26,000 tonnes a month. We're a small team but run a busy operation and it's an honour that Dene Quarry has achieved this accolade."
James Thorne continues: "Andy is a prime example that you don't need to enter the industry with a quarrying background. His journey of development and learning through the CPD scheme has given him the skills, experience and professionalism to manage his own quarry operations. He has done an exceptional job at Dene Quarry."