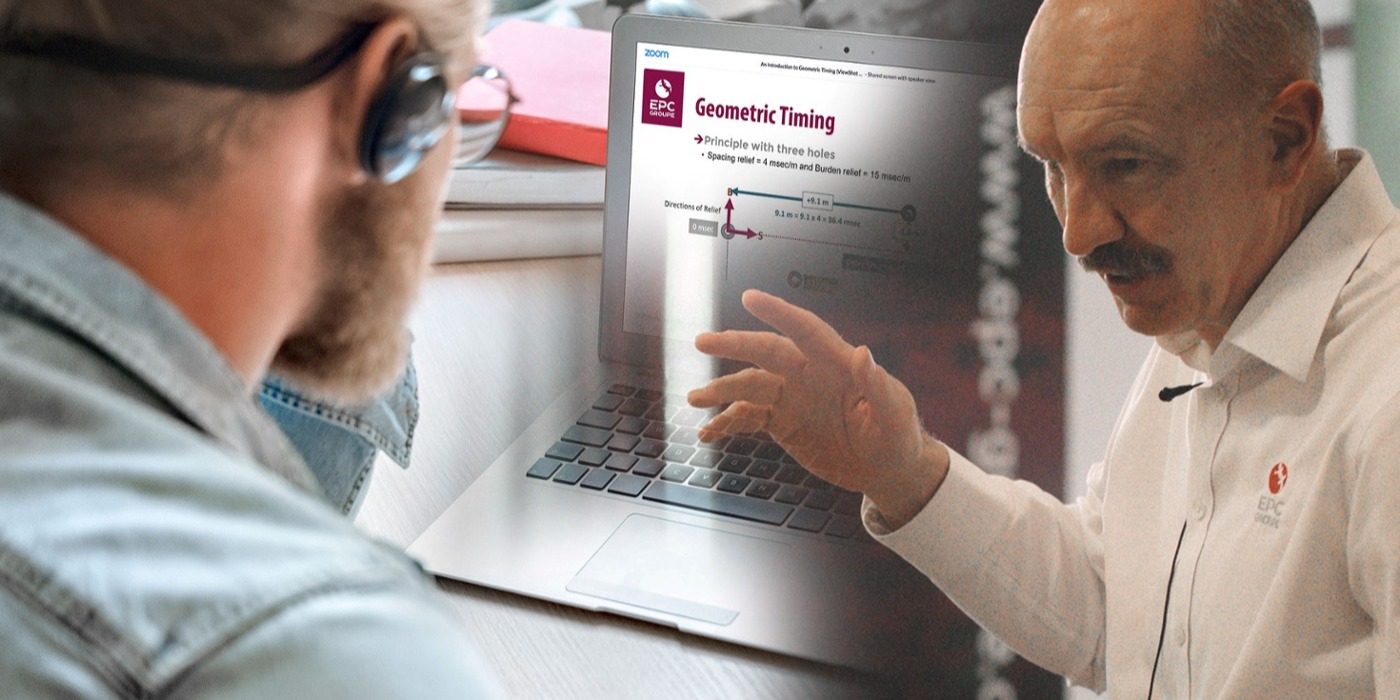 With all personal safety recommendations actively in place and a scheme of classroom and webinar-based training programmes revised and ready for delivery, EPC-UK has released its schedule of 2022 learning and development courses.
As a market-leading provider of blasting and commercial explosives-related training courses, EPC-UK has continued delivering a series of programmes in recent months including Explosives Awareness, Shotfiring & Explosives Supervisor, and MPQC SPA Quarry Passport courses. By making teaching schemes suitable for online delivery wherever possible, the company's Learning & Development team has excelled in successfully enabling training to continue through challenging times.
With opportunities to safely revisit the classroom environment currently in place, trainers are blending learning and development formats to offer programmes both virtually, and face-to-face.
New training course dates are detailed below, with online or classroom delivery specified. Several course dates are already fully booked, and some have few spaces remaining. To make a learning enquiry, or place reservation, telephone: 01773 832253, or email Learning@epc-groupe.co.uk.
Explosives Awareness Courses
A course specifically designed to develop understanding and good practice on-site, with a focus on fundamentals, types, initiation systems, live firing, legislation hazard classifications, emergency procedures and personal safety.
Classroom course availability - Venture Crescent, Alfreton:
9 March 2022
10 March 2022
Our courses contribute directly to the ongoing training and professional advancement of our industry and its individuals.
Shotfiring Courses
Covering the awareness principles in addition to bench blasting processes, flyrock, hole loading, shotfiring operations, and avoidance and handling of misfires.
Classroom course availability - Venture Crescent, Alfreton:
25–28 April 2022 – Exam 29 April 2022 – course fully booked
10–13 October 2022 – Exam 14 October 2022
Webinar course availability:
11-14 July 2022 – Exam 15 July 2022
Utilising the latest explosives technology, our trainers have many years of industry experience and knowledge, all of which is distilled into our comprehensive training courses, both bespoke and modular.
Explosives Supervisor Courses
Offering structured training on necessary explosive techniques, sequencing, organisation, planning and legislation with relevance to Supervisors.
Classroom course availability - Venture Crescent, Alfreton:
4-7 April 2022 – Exam 8 April 2022 – 1 place remaining
24-27 October 2022 – Exam 28 October 2022
Webinar course availability:
25-28 July 2022 – Exam 29 July 2022
The full training course comprises 4 modules: Quarry Shotfiring, Blast Calculation and Design, Environmental Control and Safety and Legislation. Bespoke courses can be planned for customers' specific requirements on any blasting and related topics.
Full Initial ADR Core, Packages, Tanks and Class 1 Courses
Accredited by JAUPT and SQA, the full initial ADR course covers tank packages and classes 1-9, excluding class 7. The full 35 hours of periodic training required by JAUPT are also included.
Classroom course availability - Venture Crescent, Alfreton:
W/C 6 June 2022 – 6 days of training
W/C 5 Dec 2022 – 6 days of training
As we specialise in the manufacture, storage and transportation of petroleum chemicals and explosives worldwide, our trainers, with their years of experience and accumulated knowledge, are well placed to provide the very highest level of transport training in the industry. We are also proud to be a member of – and accredited to – the National Logistics Training Consortium, which allows us to share our industry expertise to assist you in achieving driving excellence.
SPA Quarry Passport Webinar Courses
The Full SPA Mineral Product Passport training course, which provides a nationally recognised standard of health and safety assurance for contractors working within the mineral extraction and products industries, can be completed online via one of EPC-UK's award-winning webinars.
Full Webinar course availability:
7-8 Feb 2022
7-8 March 2022
9-10 May 2022
27-28 June 2022
18-19 July 2022
5-6 Sept 2022
3-4 Oct 2022
7-8 Nov 2022
13-14 Dec 2022
This two-day course is designed to enhance knowledge and raise contractors' awareness of their responsibilities for safety and enable them to identify hazards and minimise any risk.
Refresher Webinar course availability:
8 March 2022
10 May 2022
28 June 2022
19 July 2022
6 Sept 2022
4 Oct 2022
8 Nov 2022
14 Dec 2022
The SPA Mineral Products Passport lasts for three years, with your passport ceasing to be valid once it reaches its expiry date. We offer a one-day renewal course to ensure you – and your colleagues – remain safe and healthy.
For further online information, visit the Training page of EPC-UK's website.