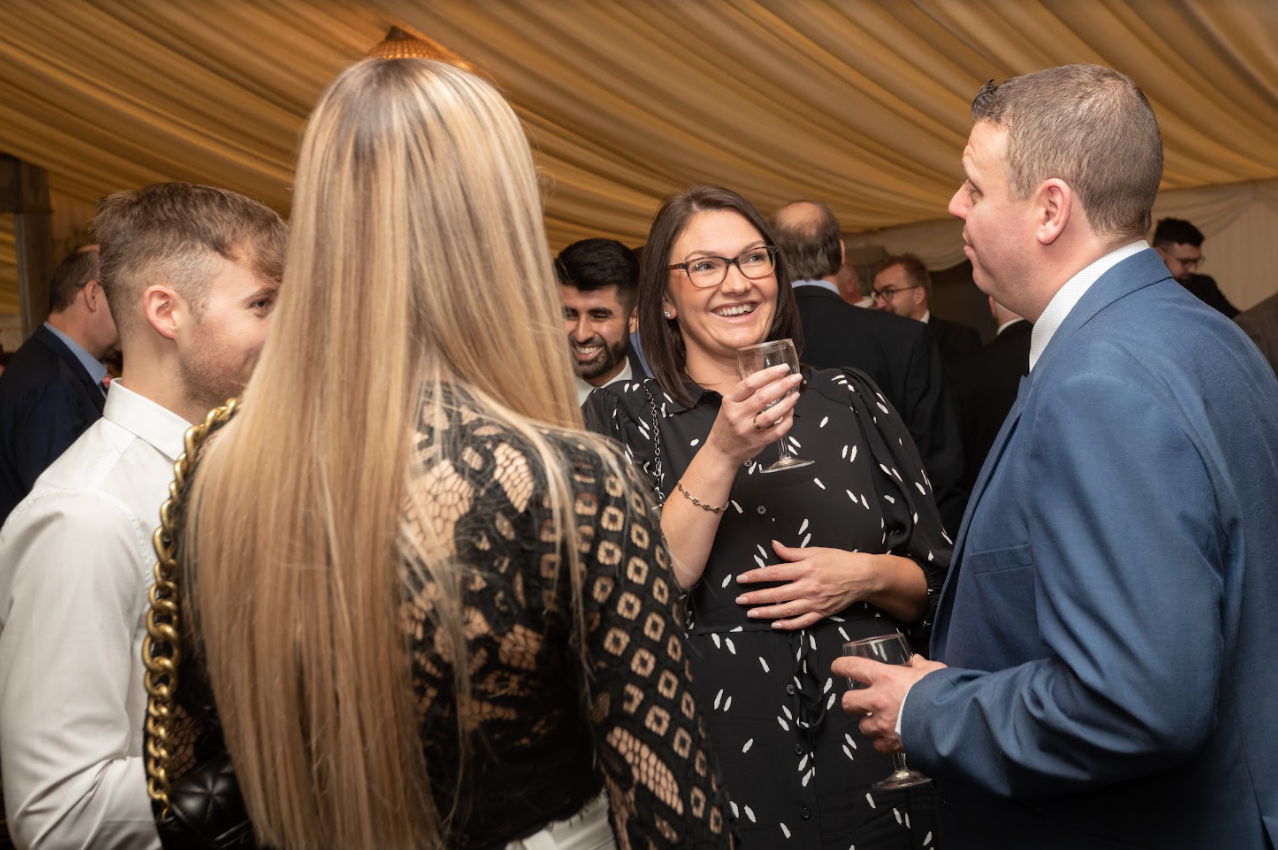 It has been over two years since the Institute of Quarrying (IQ) held its last prestigious Fellows Lunch and Student Awards in-person event. That's two years since senior industry figures were able to get together and network face-to-face and two years since high-achieving students from the University of Derby Centre for Mineral Products received public praise for their outstanding achievements.
Now that industry events can recommence, the IQ held its 2021 Fellows Lunch and Student Awards at Coombe Abbey, near Coventry. The historic venue was founded in 1150 AD and has housed royals, been part of the Gunpowder Plot and was even surrendered to King Henry VIII as part of the dissolution of the monasteries.
One hundred senior industry professionals descended on the Midlands-based venue for the IQ Fellows Lunch from all areas of the UK. It was also a fitting occasion to celebrate future leaders from the University of Derby Centre for Mineral Products at a joint awards presentation arranged by the IQ and Institute of Asphalt Technology (IAT).
Martin Riley, IQ President, explains: "What a pleasure it was to get together and catch-up with our friends and peers face-to-face, something we have all missed in the last two years. It was also fantastic to jointly host the 2021 Student Awards with the Institute of Asphalt Technology, reinforcing our close relationship and celebrating the success of our students.
"The event provided the perfect platform from which to address the recommitment to delivering on our objectives as an organisation and striving to overcome the challenges our industry faces.
"Hot topics include the environmental and sustainability agenda, and the need to tackle decarbonisation; the transformation of our world through the digital revolution; pressure on our sector to deliver the products for the economic recovery but in a manner that meets the climate agenda, leading to the demand to bring new people and skills into our industry.
"The answer to many of those challenges is education and skills, ensuring we have competent, dedicated people to futureproof the industry. That is why it was a fitting occasion to celebrate the achievements of the University of Derby students, who will be the future leaders of our industry."
Recognising excellence
The University of Derby Centre for Mineral Products is at the heart of creating the industry's future leaders. It works closely with the IQ and other key industry bodies and organisations to develop and deliver qualifications tailored to the needs of employers, and provide the skills that the sector needs now and in the future.
Students working across the mineral products sector gain valuable academic and hands-on experience, studying a range of qualifications, from higher apprenticeships to diplomas and degree courses.
Each year high-achieving students from the University of Derby are presented with an award from the IQ. It is a recognition of their outstanding achievement and continuous commitment to the minerals products industry. As part of a new format this year, IQ partnered with the IAT and held a joint awards presentation for its highest-performing students.
Martin Riley, IQ President, presented the mineral products students with their prizes alongside Viv Russell, Chair of IQ. The asphalt students received their awards from Brian Downes, IAT President, accompanied by Lyle Andrew, Executive Director of IAT, and John Read from Shell.
Mark Osbaldeston is the Head of the Centre for Mineral Products at the University of Derby. He adds: "I'd like to personally congratulate this year's cohort of IQ and IAT Student Award winners who have excelled academically, despite the challenges of a global pandemic and the adaptation to online learning. It's fantastic that we were able to come together as an industry and celebrate your exceptional achievements."
The IQ award winners include Julian Veal MIQ, Jonathan Nicholls MIQ, Martin Yeoman, Fiona Lupton, Kieran McHugh MIQ, Lewis Coxon, and Peter Triccas TMIQ.
The IAT presented prizes to Craig McCorquodale, Colin Redmond, Nicholas Land, Leighton Reid, Javier Alexander Castro Cárdenas, and Ben Parker.
2021 IQ winner profiles
Julian Veal MIQ, Operations Director at Johnston Quarry Group, was awarded The Goodwin Barsby Award, originally endowed by Leicester-based manufacturers Goodwin Barsby, and a £200 prize for Best Honours Degree in Mineral Management Student 2021. His tutors have praised him for all his hard work during his studies and are confident that he will utilise the knowledge he has gained within his role of looking after a range of quarries in Oxfordshire.
Jonathan Nicholls MIQ, Quarry Supervisor at Tarmac, received the Reginald W Coles Prize, endowed in memory of past President of IQ, Mr R. W. Coles, for Best Overall Mineral Extractives Foundation Degree Student 2021. He also received a £200 prize. As a Norfolk resident, Johnathan particularly enjoyed learning about hard rock quarries and blasting, with which he had no previous experience. His tutors describe him as a competent and dedicated student.
Fiona Lupton, Assistant Quarry Manager at Tarmac, won The Ransomes Rapier Award, endowed by the historical excavator manufacturers, and a £200 prize for Best Mineral Extractives Higher Apprentice 2021. Fiona has averaged more than 80 per cent in all her assignments over the last two years of her apprenticeship. She constantly submitted excellent work and, at times, performed outside of her comfort zone to achieve outstanding results.
Kieran McHugh MIQ, General Manager at Tracey Concrete, was presented with The Peter Preston Award, bestowed by the late Peter Preston, for Best UK Diploma Student 2021, and a £200 prize. His tutors have praised him for his high grades, which clearly show the time and effort he put into his studies.
Two Longcliffe Calcium Carbonates Awards of Excellence were presented to the Best Performing Mineral Extractives Foundation Degree Students in Years One and Two. First-year student Peter Triccas TMIQ, Assistant Manager at Aggregate Industries, impressed tutors with his consistent hard work and dedication towards studying throughout his first academic year. Second-year student Lewis Coxon, Quarry Manager at Cemex Hatfield Quarry, has been praised by tutors for achieving some of the highest grades in all the modules he studied. Both students also received a £200 prize.
Martin Yeoman, Production Manager at Aggregate Industries, was crowned the winner of The Scottish Springbank Quaich Award for Best Third Year Foundation Degree Student 2021 and walked away with a £200 prize. His tutors have said that he has performed exceptionally well throughout the programme, with consistently good work that showed his ability to adapt from a non-traditional learner to life-long learning.
2021 IAT winner profiles
Craig McCorquodale is Senior Aggregates and Asphalt Technician at Tarmac in the North East area, based at Barrasford Quarry in Hexham. He received the Shell Bitumen award for Best Third Year Student and Worshipful Company of Paviors award for Contracts & Business Administration.
Lewis Bolan, of Tillicoultry Quarries, was placed second in the Shell Bitumen Award for best Third Year Student and Dan Alderson was placed third.
Colin Redmond, Pavement Construction Manager for Kier on the Birmingham Interim Services Contract, and Nicholas Land, received the award for Best Second Year (Joint).
Leighton Reid won the award for Best First Year.
Javier Alexander Castro Cárdenas flew in from Honduras, in Central America, to accept his two awards: Worshipful Company of Paviors Award for Pavement Technology and the Best Diploma Student, sponsored by FM Conway. Javier completed his entire study programme remotely, which meant that most of his online classes were in the early hours of the morning.
Ben Parker, who was unable to attend the event, won the IAT's Special Recognition Award. This is a new award from IAT and is presented to a student who, in the view of University of Derby staff and IAT Council, has made an exceptional effort under challenging circumstances.
Martin adds: "The University of Derby's Centre for Mineral Products is a beacon for excellence in our industry. We are proud of the compelling partnership we have with the University and our rich history of supporting the development of talent in our industries.
"As someone who has personally benefited from educational support to achieve my career goals, I would like to thank the Centre for Mineral Products and the University of Derby for their hard work in continuing to develop the skills and knowledge of students throughout the pandemic. We're well on the road to creating future leaders."
Find out details about the University of Derby Centre for Mineral Products and the courses available at www.derby.ac.uk/mineral-products