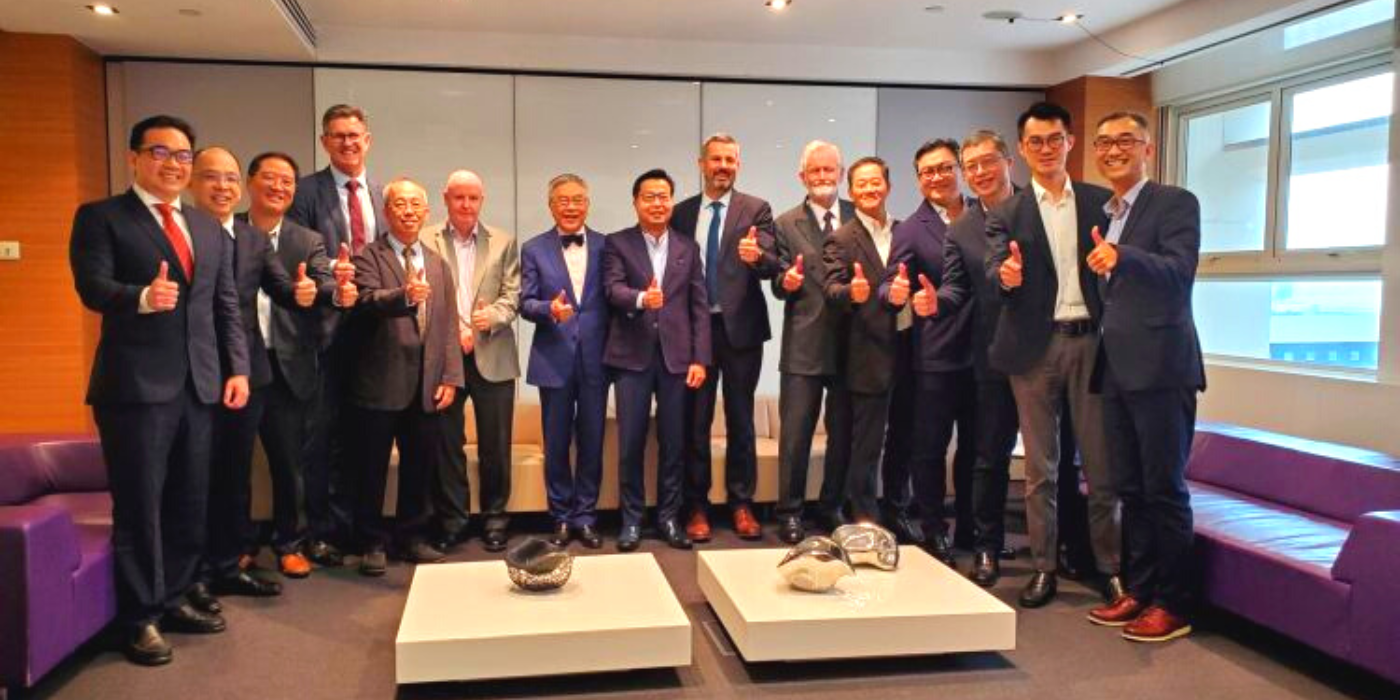 The Institute of Quarrying (IQ) Hong Kong branch celebrated its 50th annual general meeting (AGM) towards the end of March, which included the awarding of three Honorary Fellowships.
During the 50th AGM held on 27 March 2023, Joseph Chee, Managing Director of K. Wah Construction Materials, and Lambert Leung, the former CEO of Cheung Kong Infrastructure – Materials and the Chairman of Alliance Construction Materials Co. Ltd from 2013 to 2017, were presented with their Honorary Fellowship certificates by Andrew Woodfine, the current IQ Hong Kong Branch Chairman. David Hogan, Director of Commercial Excellence, APAC of Heidelberg Materials received his certificate virtually in Australia where he currently resides.

The esteemed individuals have been presented with Honorary Fellowships in acknowledgement of their significant contributions to both the IQ Hong Kong branch and the wider quarrying industry.

Dan Ahern, General Manager for Concrete at Alliance Construction Materials is the former Chairman of IQ Hong Kong branch. Dan says: "The recipients were unanimously put forward by the Hong Kong Branch Committee, each being described as a driving force for the quarrying industry in Hong Kong and internationally. Their impact on the industry has been crucial in areas such as new quarry development, health and safety, government policy, and sustainability."

Joseph Chee has worked his way up at K. Wah Group since 1982 and has made many remarkable contributions to operations over the years. Joseph first joined the Institute back in 1989 as a member and later became the Chairman of IQ Hong Kong branch from 1998 to 2000. Today, Joseph leads and oversees the day-to-day management of the business of K. Wah Construction Materials within Galaxy Group. During his tenure, Joseph has developed the construction materials business as a vertically-integrated resources company which supplies aggregates, ground granulated blast furnace slag, cement and other downstream building materials, with a strong focus on creating value in a sustainable manner in Hong Kong, Macau and Mainland China.

Lambert Leung began his career as a certified accountant within construction materials in 1974, when he joined Anderson Asia (Holdings) Ltd. as a Manager of Finance and Administration. Lambert has been a Fellow Member of IQ Hong Kong branch since the early 1990s and was appointed as the Branch Chairman in 1997 and 1998. Thereafter, Lambert remained a member of the Hong Kong Branch Committee for more than 10 years. He introduced many innovative ideas to the branch and successfully promoted the image of IQ by organising various types of branch activities.

David Hogan joined the industry as a Quarry cadet with Pioneer Concrete in 1979. He was amongst the first Queensland-based employees to complete the Institute of Quarrying-sponsored Diploma in Extractive Industries from Box Hill College. David has been a member of the Institute of Quarrying for over 42 years, joining as a student in 1979 and has held committee roles in Queensland and Western Australia. During his 15 years as part of Hong Kong branch, David has held the title of Vice Chairman for four years and Chairman for five years.

The Hong Kong branch Committee for 2023 includes the recent additions of Bradley Kininmonth as Vice Chairman and K.C. Leong as a committee member. The full lineup for this year's committee is as follows:

Chairman: Andrew Woodfine
Vice Chairman: Bradley Kininmonth
Secretary: Raymond Ng
Treasurer: H. M. Chan
Committee Members: Don Johnston, Eddy Tsang, Gary Lau, Geoffrey Chan, James Yiu, K. C. Leong, Ng Heong-chen and Ross Chow.