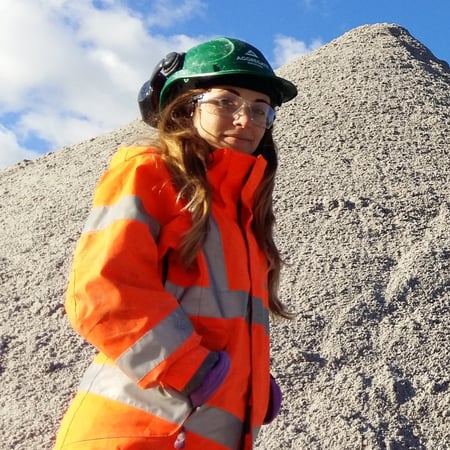 The quarrying industry is not a man's world anymore - women can flourish professionally in this sector and we definitely need to raise awareness of this even more.
Anastasia Grizioti MIQ Process Engineer, Aggregate Industries
[fa icon="quote-right"]
It's a diversified and challenging industry, suitable for people from various backgrounds.
I have a career that really excites me with the opportunity to develop management and leadership skills through continuing professional develpoment.
As far back Anastasia Grizioti can remember she has always had a fascination for the earth's structure. That passion manifested itself in an ambition to understand more about geodynamics, a subfield of geophysics dealing with dynamics of the Earth.
Equipped with a Masters degree in Mineral Resources Engineering and a Masters in Sustainable Energy and Environment, Anastasia has been keen to combine her academic knowledge with hands-on experience. Now she's a Process Engineer at Aggregate Industries.
"The step into quarrying was a natural progression, given I've had a lifelong interest in the Earth's structure. What better way to get up close with the materials that form the Earth's crust?
"I'd already developed a personal interest in quarrying, having been on a number of visits to quarries and mines during my degree. The opportunity with Aggregate Industries was almost too good to be true. It has propelled me into a career that really excites me, combined with the opportunity to develop my management and leadership skills through continuing professional development.
"What I love about my job is that no two days are the same. I really enjoy the diversity of the divisions I have been involved in at Aggregate Industries, and I've gained a huge amount of knowledge from my involvement in various projects and tasks. If there was such a thing as a 'typical day' it might include project work, management support and assisting with site visits."
Anastasia is a Member of the Institute of Quarrying. Her first experience of IQ was during her initial placement at Moorcroft Quarry in Plymouth, where she met Jonathan Atwood, chairman of IQ's Devon and Cornwall branch. She says: "The variety and the quality of IQ's activities was what attracted me in the first instance. My motivation was not just to join but to become an active member, taking part in events and realising value from my membership.
"It's important for my professional development that I continue to build on my experience in project management, commercial and operational excellence and leadership skills. That's what I'm looking forward to on completion of my Graduate Management Trainee programme."
As one of the growing number of women working in quarrying and mineral extractives, Anastasia is excited by the prospects of others considering the sector as a future career: "I strongly encourage graduates to pursue a career in the quarrying industry. It's a very diversified and challenging industry, suitable for people from various backgrounds, and it offers exciting career prospects which is a major box-tick for students thinking about life after university.