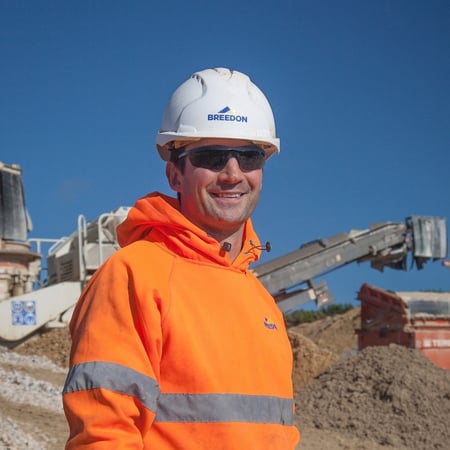 You get a real buzz from seeing the difference you can make to a business; your ideas are listened to, acted upon and you get to see the important contribution you can make.
Julian Veal Quarry & Recycling Manager, Naunton Quarry, Breedon Group
[fa icon="quote-right"]
I've been lucky to land this job. But sometimes you make your own luck.
There are fantastic opportunities for bright, enthusiastic and energetic young people to progress quickly. You just have to grab them.
"After leaving university I landed a graduate trainee position at Taylor Wimpey, one of the UK's largest house builders. I moved up in the business to take on a role as Land & Planning Manager. But it wasn't really me.
"I had thought about the Royal Navy as an option, so applied and was accepted. I was biding my time until I started and I'd seen an advert for a general operative with Breedon Group at Naunton quarry near Cheltenham, so thought this would suit me down to the ground. I really didn't want another office-based job.
"Shortly after joining I was offered the job of trainee quarry manager. It wasn't a career I had considered as my heart was set in the navy, but I really enjoyed being outdoors and getting to grips with the different aspects of quarry operations. So I jumped ship and chose a career in quarrying over the navy.
Julian continues: "The job has given me much greater autonomy and responsibility to make my own decisions. Plus being responsible for a large spend and profitability is both daunting and exciting at the same time. But what I particularly enjoy is seeing the instant impact of what we do. We extract materials that are stockpiled. When this is loaded on the wagons you see an immediate impact on what's left in the yard. I love that."
"My current role as Quarry & Recycling Manager is not without its challenges. But I've been lucky in that Breedon has invested in my personal development. I'm proud to say that I've achieved my Diploma in Quarry Technology from the Institute of Quarrying after completing a three-year course run by the University of Derby.
"This honed my interest, knowledge, understanding and evaluation of the extractive industries in general, and the quarrying industry in particular. It also improved my understanding of the impact of what we do upon the natural environment.
"I have also completed numerous mobile plant qualifications. Each aspect of my development has helped put theory behind the practise, helping me to understand the challenges of each role on the site, from plant operator to accountant. Some of my most valued learning is peer-based advice and mentoring from my very experienced area production manager, as well as previous quarry managers."
I joined the Institute of Quarrying when I started my diploma. It has been really useful, providing access to resources, great networking events and I really look forward to receiving my copy of Quarry Management magazine each month.
"I've been very lucky to land this job. But sometimes you make your own luck. Quarrying has an ageing workforce, so there are fantastic opportunities for bright, enthusiastic and energetic young people to progress quickly. You just have to grab them."