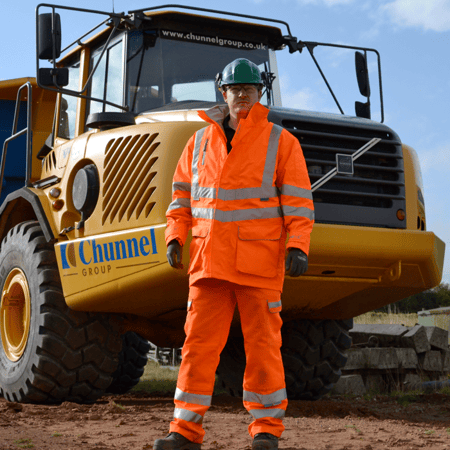 One thing I've noticed is that the quarrying industry places great value on investing in people's professional development.
Scott Saunders MIQ Assistant Quarry Manager, East Leake Quarry, CEMEX UK
[fa icon="quote-right"]
Helping colleagues and sharing knowledge is a two-way process.
I know the support is there that I need to succeed.
Scott's interest in quarrying ignited when based at the British Army's Chetwynd Barracks in Chilwell next door to the Institute of Quarrying's offices.
"Moving on from the army, I landed my first job as factory team leader at Aggregate Industries producing slabs, flags and bespoke products. That led to me getting more and more involved in the quarrying side of the business, which ignited my interest in becoming a quarry manager. When CEMEX UK came knocking with the opportunity to realise my ambitions, I snapped their hands off at the chance."
Working at CEMEX UK's largest site - Dove Holes limestone quarry in Derbyshire's Peak District - Scott was the Safety, Environmental and Contractors Manager. The 213ha site employs approximately 150 people across it's quarrying, asphalt and building products operations.
Scott has now enrolled on the FdSc Mineral Extractives Technology course at the University of Derby's Centre for Mineral Products Professional Development. The foundation degree course has been developed in partnership with the Institute of Quarrying and other industry experts and is the standard knowledge based competence qualification for the sector.
"The quarrying industry places great value on investing in people's professional development. I'm complementing my on-the-job learning with the course I'm doing at the University of Derby, plus I've already completed my Geotech Manager's Safety Course, so continuing professional development is high on my list of priorities."
His hard work, determination and positive attitude has already brought Scott new career challenges as he is now the Assistant Quarry Manager at East Leake quarry in Loughborough. The role came about following a secondment to the health and safety team responsible for around 60 sites stretching from Great Yarmouth to Swansea.
Moving from a hard rock quarry to a sand and gravel operation has had its challenges for Scott, not least because bee-eaters – a spectacular bird rarely seen in the UK – arrived at the quarry in June 2017 to nest. The interest in seeing the birds attracted over 12,000 visitors to the site over 7 a week period.
"It was definitely something that wasn't covered in any of the courses I've been on and it was exciting to be part of something that generated so much interest amongst the general public."
"The change from one quarrying discipline to another has gone pretty smoothly. I like learning new things and I know the support is there within CEMEX UK that I need to succeed. Helping colleagues and sharing knowledge is a two-way process as I share my experiences with the team here so it always goes both ways."