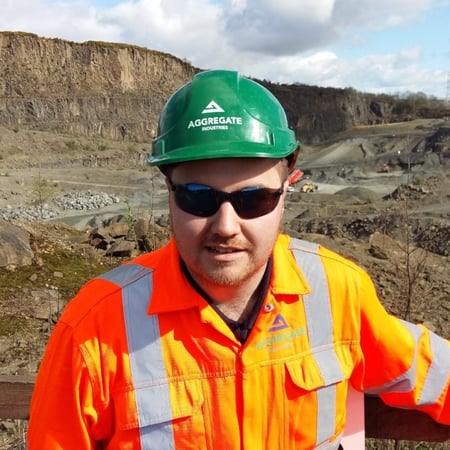 For anyone who is interested in quarrying, I would say don't be afraid to try something new. With so much uncertainty these days within the job market for young people, this industry has an upper hand as it provides so much help and resources to aid your career progression and continuing professional development.
Stuart Laird MIQ Trainee Assistant Quarry Manager, Croy Quarry, Aggregate Industries
[fa icon="quote-right"]
I wasn't expecting the skills and knowledge I had would be transferable to the quarrying industry.
It's all about taking what you know and applying it to new environments.
Stuart explains: "I studied Computer Aided Mechanical Engineering at Glasgow Caledonian University, achieving a 2:1 before progressing to a Master's Degree in the same course. I have always enjoyed and excelled at Maths, Physics and Chemistry and had always thought I'd end up in a job designing ships or planes.
"But that all changed when I came across the Aggregate Industries Graduate Scheme."
"Considering my degree had nothing to do with the quarrying industry, I wasn't expecting the skills and knowledge I gained to be transferable to my new role. However, some of the course modules I completed at university, including 'strategy and innovation' and 'professional orientation and practice' are directly related to various aspects of my job.
"It's all about taking what you know and applying it to new environments. That's been another learning curve for me, but one that I have really enjoyed and I can't wait to build on as I progress in my job."
Stuart continues: "I started as an Aggregate Industries' Graduate Management Trainee, which involved completing three, six month placements. These were located at Duntilland Quarry in North Lanarkshire, Garside Sands in Leighton Buzzard, Bedfordshire and a mobile role based in the Midlands. I learned a lot from my three placements as they were so different - I went from a rock quarry, to a specialist sand and gravel plant, to a supporting function role learning new processes like Asphalt and Ready-mix.
"I started my first full time position as Trainee Assistant Quarry Manager in March 2017. I really enjoy my new role because no two days are the same - so many different things happen each day. My standard tasks involve arriving on site at 7am, getting my PPE on, and taking a look around the site to see if anything has changed overnight. This could include weather conditions or checking for signs of trespassers.
"My job comes with lots of challenges, which I embrace because they are ultimately all a part of my learning process. As someone who is relatively new to the role, I am still learning how to get the balance right between being out on site and enhancing my knowledge of operations in that area and being in the office to familiarise myself with the support processes. It's also helpful in this job to be adaptable and willing to relocate.
"I learned about the Institute of Quarrying when I was on my first placement at Duntilland Quarry and I attended a few of the Scottish branch's Technical Evenings. From there, I learnt about IQ's partnership with The University of Derby and their catalogue of training opportunities on offer. This was incredibly helpful and advanced my own career progression because I went on to study there for a Diploma in Mineral Extractives Studies, which I passed.
"Now that I have chosen to go down the Quarry Management route I believe the next steps for me are to gain additional relevant qualifications and see how far I can go within the company.
"For anyone who is interested in quarrying, I would say don't be afraid to try something new. I had no idea what the quarrying industry was like until I was thrown into it on the Aggregate Industries Graduate Scheme and now I'm a Trainee Assistant Manager! With so much uncertainty these days within the job market for young people, this industry has an upper hand as it provides so much help and resources to aid your career progression and continuous professional development."