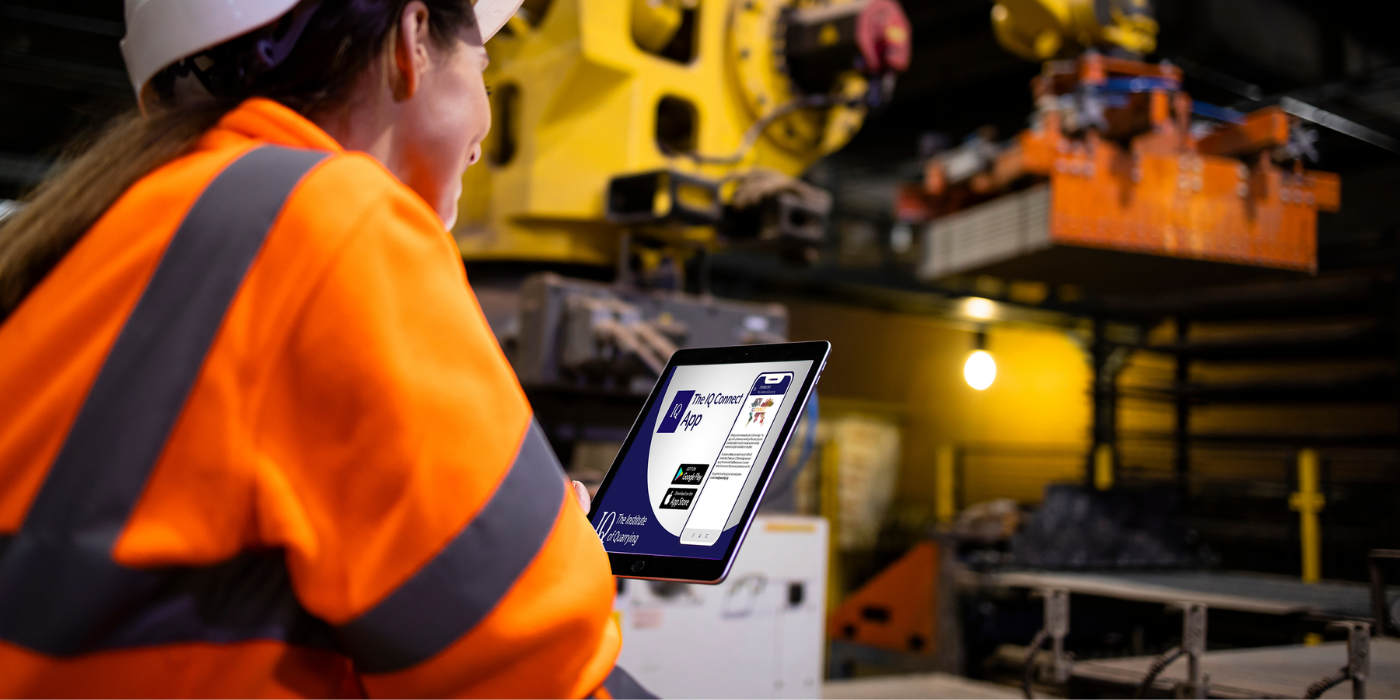 The Institute of Quarrying (IQ) is eagerly anticipating this year's Hillhead, ready to engage with industry professionals from across the world and launch its new professional development mapping tool, alongside a number of other added value member benefits.
Hillhead (21-23 June) is the largest exhibition of its kind in the world. As the professional body for people working in the mineral products industry, the IQ will be showcasing the value of IQ membership, as well as providing a chance for members and industry professionals to meet the IQ team.

James Thorne, IQ Chief Executive Officer, explains: "After the hiatus of the last few years, everyone at the Institute of Quarrying is looking forward to meeting colleagues from across the industry once again. Hillhead is the largest exhibition of its kind anywhere in the world, so it provides the perfect platform for us to promote the value and benefits of IQ membership to visitors who are looking for help, advice and guidance on getting on in their careers.

"Pop along and see us on stand H2 to find out how we support you throughout your career. Membership is open to individuals across all roles in the industry and as your experience in the industry grows, IQ membership advances with you.

"Our international role and influence continues to grow. With currently more than four million people working in quarries across the globe (Quarry Facts), it's imperative that we also play our part in raising professional standards - from health and safety to sustainable practices and care for the environment. You can find out more by chatting with our stand team."

The IQ will launch its new Personal Development Wheel at Hillhead. The tool helps mineral products professionals carry out an effective self-audit of knowledge and skills levels. Using the results of the audit, members can create a personalised development plan in the areas they wish to develop in order to achieve career goals.

James adds: "Our new Personal Development Wheel allows members to carry out their own self-assessment of their knowledge and skills levels against the IQ Skills Wheel. Using the results, members can create a personalised development plan in the areas they wish to develop in order to achieve career goals. For example, if a Quarry Deputy wants to progress to a Quarry Manager role, the Personal Development Wheel helps identify the areas that they need to enhance.

"The IQ Skills Wheel shows how to build skills across different knowledge areas. Now combined with the Personal Development Wheel, individuals and businesses have a guide to assist with personal development plans and can help build flexible and agile workplaces."

In addition to the new Personal Development Wheel, visitors to the IQ stand (H2) can find out more about IQ Connect, an innovative, simple-to-navigate mobile app that provides members with access to learning materials and the latest industry best practice, education and training opportunities, the value of membership, and IQ's recent merger with the National Stone Centre in Derbyshire.

All members of the IQ team will be available in the exhibition area to answer questions, with specialisms in areas such as membership, education and training, educational pathways and the IQ Benevolent Fund (IQBF).
James Thorne, CEO, is joined by Julian Smallshaw, Head of Education and Standards; Sarah Fry, Head of Marketing and Membership; Manisha Morar, Learning and Development Officer; Anthony Elgey, Education and Skills Project Manager; Wanda Zablocki, IQBF Welfare Officer and Industry STEM Ambassador; Debbie White, IQ Membership Officer; Louise White, IQ Events Coordinator; and Isaac Azim, Digital Marketing and Social Media Manager.

Hillhead returns from 21-23 June 2022. Held in a quarry, Hillhead is the largest exhibition of its kind in the world with three days of live demonstrations, over 600 exhibitors and thousands of products on display.

Find out more about IQ on stand H2 at Hillhead. Additional information about IQ can be found online www.quarrying.org.