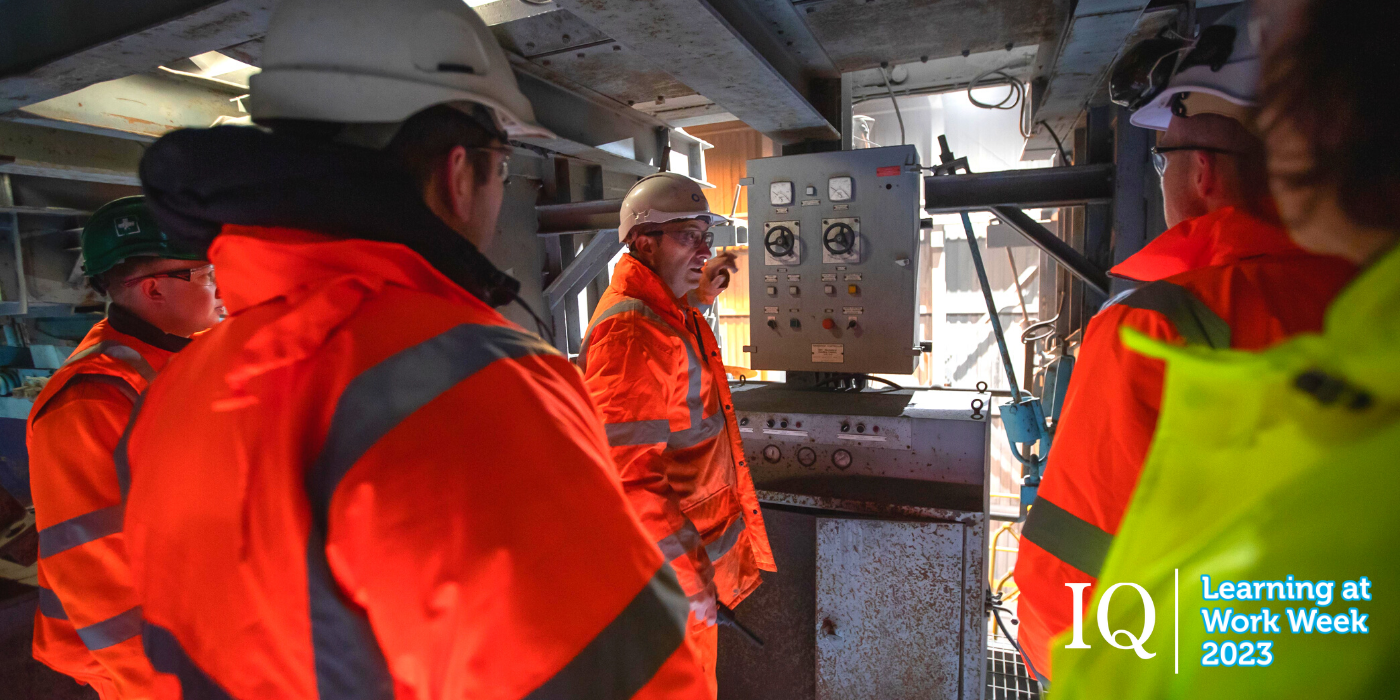 Learning never exhausts the mind - Leonardo Da Vinci

May hosts national Learning at Work week. Just another themed week you may think, but, as with all these themed weeks, their function is to shine a spotlight on wider issues of foremost importance, inspiring people to rethink their individual and collective approach to a subject.

This year's Learning at Work theme is 'Create the Future,' posing, for example, the pertinent industry question of how education and learning is increasingly important for the evolution and retention of skills. The skills that are going to be needed to synergise the mineral products industry with the future demands of so-called Industry 4.0, the digital revolution. ¹

Human learning is surprisingly complex. Many will have experienced the learning by rote method which remained embedded in the education system for decades, but greater research has evolved our understanding that effective learning is significantly more complex and critically, more personal.

Also, it is not a one-hit wonder – learning is best thought of as a process that occurs throughout our lives. It is the acquisition of knowledge, skills, and abilities through experience, study, or instruction.

So, understanding how we best learn as individuals can be useful to influence the options, we choose to find qualifications, courses, and the other learning we will absorb.

Leadership and learning are indispensable to each other – John Fitzgerald Kennedy

Whatever the obvious advantages to the individual from learning at work, it is important to also remember that workforce learning is of great benefit to organisations. Learning helps keeps valuable people engaged and resilient to change, consequently enhancing the opportunities for businesses to be agile and relevant.

Learning and development build productive growth pathways for organisations, creating internal talent pipelines for future opportunities. The contemporary education remit goes beyond "classical" raw materials-related topics (geology, mining, and mineral processing), and into areas where there are deficiencies in emerging and non-technical skills like communication and management. ²

A LinkedIn 2023 report³ highlights four focus areas for learning and development in 2023 namely, aligning learning to business goals, upskilling employees, creating a culture of learning, and improving employee retention. A people-centric strategic take which meets the needs of the business development.

One of the benefits of learning is that the learner can often drive it, knowing the skills they want and need to progress. Having a company culture that values learning and development and actively encourages the team to improve is especially important. If individuals feel empowered with time to develop their knowledge and skills via supportive businesses, they will also re-invest their learning for the benefit of the business.

Internships and Apprenticeships

For young people internships offer a great deal of knowledge and career inspiration. A 2022 article on Indeed.com cites the benefits of Internships⁴, noting that they can introduce people to areas of work that they had not considered.

Equally, apprenticeships, available throughout the sector, play a valuable learning at work role. Government research indicates that 86% of employers report that apprenticeships help them to develop relevant skills to their organisation⁵. With no age barriers to apprenticeships, they are an asset to both new entrants and those already working in the sector.

Formal qualifications and training from appropriately regulated training providers and sector organisations also ensure that there is a wealth of learning opportunities available.

The purpose of education is to turn mirrors into windows — Sydney J. Harris

Learning is one side of the coin but for those with experience, knowledge and with fascinating stories to tell, there are also opportunities for learners to become valuable teachers. Knowledge that cascades.

One way, for instance, is to become a Minerals Matter STEM Ambassador, via the Minerals Matter partnership with STEM Learning UK. Registration is simple via the STEM Learning UK website, offering ready-made access to network with schools and undertake the critical work of inspiring young people to understand the significance and interest of a career in the mineral products industry. A few hours a month or even a few per year could be the meaningful intervention in someone's life that sets them onto a rewarding and fascinating career. A legacy that will enable succession and position the industry in the light that it deserves, as progressive, innovative, diverse, and inclusive.

There are many active steps that the Institute of Quarrying (IQ) is taking to create the future of learning at work and ensure those working in the sector are equipped with up-to-date skills and knowledge.

Centre for Mineral Products

The University of Derby Centre for Mineral Products is the only provider of quarrying and mineral products industry-specific higher-level professional education. Its courses deliver industry standard and globally recognised qualifications to the mineral products sector.

IQ along with several respected industry professionals, has taken a key role in leading a major 18-month project to update the overarching course curriculum at the University of Derby Centre for Minerals Products. Contributors include The Institute of Asphalt Technology, Concrete Society, Road Surface Treatment Association, the International Clay Technology Association, and staff from the Centre for Mineral Products.

Mark Osbaldeston, Head of the Centre for Mineral Products at the University of Derby, explains: "These qualifications enable a clear progression path to those employed in the sector, both nationally and internationally, who wish to enhance their career and life-long learning opportunities.

"While course materials are continuously reviewed to ensure content reflects the needs of the industry, the current foundation degrees and diplomas were five years old and due for a major review under university rules and procedures. It was an opportunity to refresh, update and simplify the curriculum, content, and structure, including areas requested by industry stakeholders such as technology and increased sustainability."

The Centre's suite of interconnected blended learning programmes covers five pathway-specific areas of study. These include Mineral Extractives Technology, Asphalt and Pavement Technology, Concrete Technology, Cement Technology and Clay Technology.


Geotechnical Awareness

Responding to feedback from employers and industry professionals, and with support from MP Awards, the IQ is offering members and non-members access to the new Level 3 and 4 Awards in Geotechnical Knowledge for Managing Mineral Processing Operations.

The new geotechnical qualifications are suitable for anyone dealing with quarried products in day-to-day job roles. Comprising a unique blend of assessed classroom training, site tour, e-learning modules, and a professional discussion, it is tailored to the learners' operational environment and can be completed at their own pace.

Anthony Elgey, Sector Standards Manager, Minerals Matter, explains: "Working closely with MP Awards, IQ has developed new geotechnical qualifications that raise the standard and underpin the competencies required by the sector, both now and in the future.

"One of the key improvements to the qualification is that it is now pathway driven. Learners can choose tailored modules and units relevant to the specific geology and the needs of the operational environment, be it quarry, dimension stone operation, cement works, sand pit, wharf, or rail depot.

"The course is flexible and can be completed at the learners' own pace to fit around busy work-life schedules. We've also removed the exam aspect and replaced the final assessment with a professional discussion, a great way of assessing how they put the theory into practice."

As part of a three-tier approach, learners will attend a one-day classroom training session with an industry specialist, who will also guide the candidates on a tour of the site putting theory into real-world context, followed by the completion of a short programme of tailored online learning. The final step involves a professional discussion, whereby an assessor will evaluate that their knowledge meets the standard of the new qualification.

Biodiversity Workshops – May 23rd & 24th

The mineral products and extraction industry has made and continues to make an incredibly valuable contribution to creating unique habitats and improving biodiversity both during and after operations.

Both wet and dry quarries offer a huge range of opportunities to develop natural landscapes and habitats for native fauna and flora. These habitats including heathland, hay meadows, calcareous grassland and wetlands have been in serious decline over the past 100 years; along with the decline in the population of birds, insects, amphibians, reptiles, wildflowers, and many other species.

Now the Institute of Quarrying has brought back its interactive workshop for 2023, to help quarry professionals build their skills and knowledge in this vital area.

James Thorne, IQ CEO, says: "There is so much potential for biodiversity during and after quarrying. Sixty per cent of all Sites of Special Scientific Interest (SSSI) are at least in part mineral workings, and there are currently more than 1,000 active mineral sites across the UK, resulting in approximately 140 square miles in quarry control.

The IQ continues to actively develop training for members and the broader industry around the restoration agenda, including the popular biodiversity workshop".

Each workshop will be led by Andy Littler who has spent 40 years in the industry, devising and implementing biodiversity action plans and managing restoration schemes. Joining Andy is David Broom, a professional ecologist who has been working with major companies in the extractives industry for over 25 years.

Delegates of the workshop will enjoy an interactive and engaging session packed with practical examples, including a field visit to an adjacent nature reserve and a quarry restoration scheme in progress.

For Further information on IQ's education and training resources, contact education@quarrying.org or visit quarrying.org/iq-education-and-training