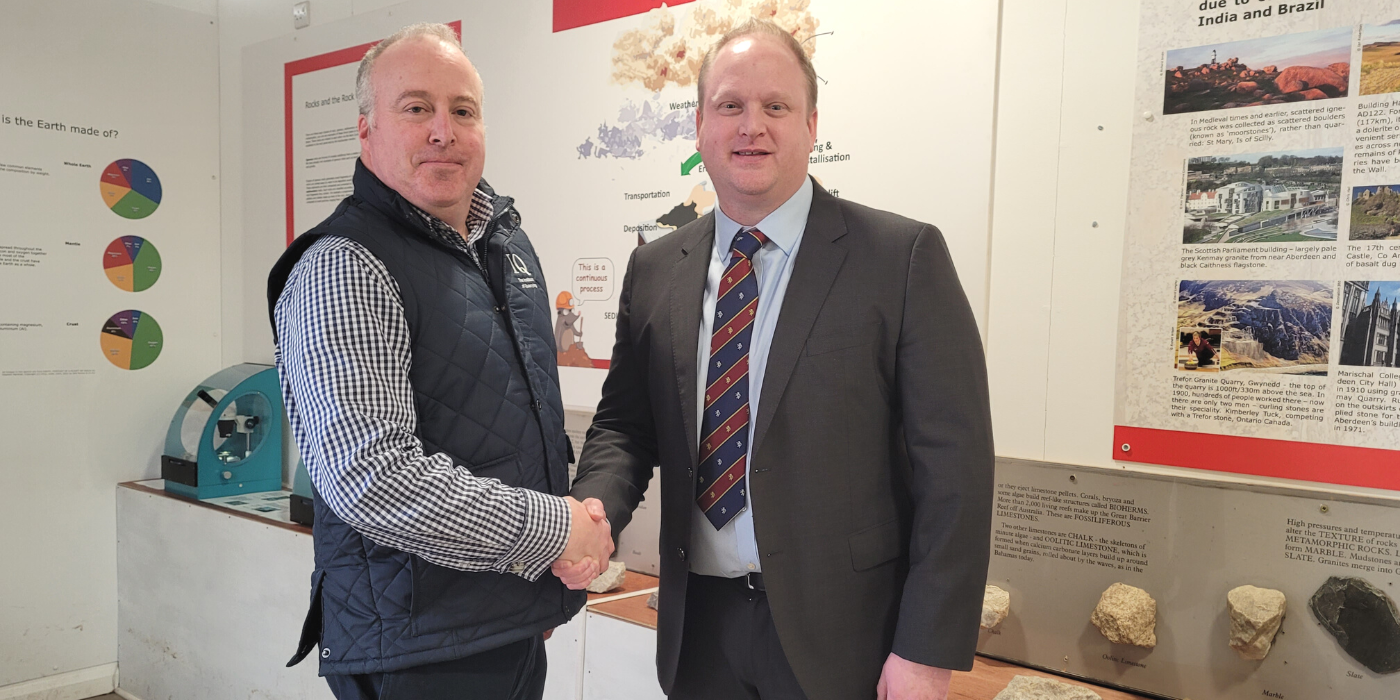 Back in 2021, the Institute of Quarrying announced an agreement with the trustees of the National Stone Centre (NSC) to create a world class visitor experience. Since the initial announcement, IQ have moved forward with their ambitious plans to offer an internationally significant centre of excellence for both it's members and the quarrying and mineral products industry.
Supporting these plans, major Derbyshire Dales employer Longcliffe Quarries Ltd has joined forces with the NSC in Wirksworth to highlight career opportunities in the quarrying industry and inspire the next generation to come and work in this vital sector.
Longcliffe has committed to donate £100,000 over the next five years, starting with a Phase 1 £20,000 contribution this year to revamp the NSC's Learning Zone. This first project will involve remodelling, refurbishing and upgrading the existing Learning Zone and 'Story of Stone' exhibition. The work will enhance the experience for all visitors including schools, other students and the general public. The project will include opening up the exhibition space so that it is more accessible; updating the presentation of the exhibits and introducing interactive displays for visitors to engage with.

Phase 2 of the sponsorship will involve an £80,000 donation towards the NSC's ambitious plans to develop a brand new £6.5 million visitor centre, plans for which were submitted to Derbyshire County Council in 2022. The NSC, which merged with the Institute of Quarrying last year, aims to make the site the 'leading UK facility promoting the importance of the mineral products sector, alongside state-of-the-art learning facilities supporting the sector in developing skills for the future'.

Commenting on the company's major sponsorship announcement, Longcliffe Group Managing Director Paul Boustead says: "Quarrying and the minerals industry have played a major role in the industrial heritage of this area for hundreds of years. Longcliffe itself has been a major employer for almost 100 years so we are delighted to join forces with the National Stone Centre to support its short and longer term goals.

"The Centre is already a popular facility for educational visits. We hope that through our funding, the Learning Zone can become even more of a success story, telling the story of quarrying to a wider audience and reaching out to potential employees and leaders of the future."

James Thorne, CEO Institute of Quarrying adds: "We are incredibly grateful to Longcliffe for their generosity and support of our vision for the future at the National Stone Centre. The mineral products industry has a vital role in enhancing our everyday lives. Through the NSC we want to demonstrate how the professionals working in the sector both today and in the future will continue to have a positive impact for our collective economic and environmental benefit."