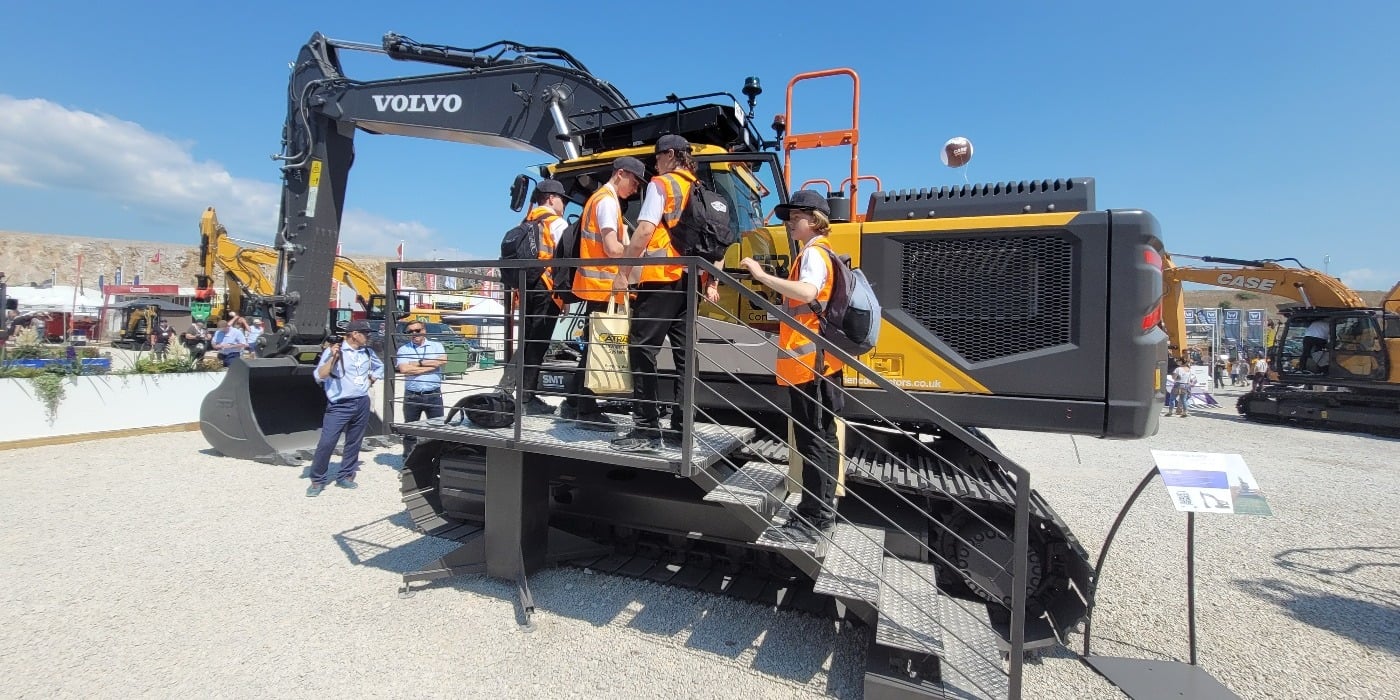 For the first time in its history, Hillhead - the industry's largest exhibition for quarrying, construction and recycling, welcomed a delegation of students from a local Derbyshire school to meet industry operators and learn what career opportunities exist across the sector.
The Institute of Quarrying (IQ) arranged for a group of Year 10 students from Chapel-en-le-Frith High School to attend the Hillhead exhibition in Buxton. The purpose of the work experience visit was to inspire the next generation of quarrying professionals by demonstrating the variety of roles available and diversity of opportunities on offer.
James Thorne is CEO of IQ. He says: "The quarrying and mineral products sector brings a significant financial benefit to Derbyshire; there are currently more than 20 active quarries across the Peak and Dales, generating around £2.1 billion gross value added per year to the national economy (High Peak Borough Council).
"Being able to show young people first hand the incredible range of extraordinary careers that our sector has to offer has to be a way forward for us all. It's only by opening our doors and sharing what we do with our communities that we will be able to attract the best of the best to join us and invigorate our industry for the future."
Richard Bradbury, event director, said: "It was great to have school students visit Hillhead 2022. It's essential that the quarrying industry engages with young people at an early enough stage. Hillhead provides a great platform to boost the industry's profile and will hopefully help to inspire the next generation of quarry professionals. We look forward to working with IQ to develop this further next time."
During the visit to Hillhead, the group of 14 students visited a number of stands, including Tarmac, Wirtgen Group, SMT, EPC-UK, and CDE to learn more about the different aspects of the sector. The students learnt everything from apprenticeship pathways, sustainability in the industry, the use of technology, as well as interacted with simulators and big vehicles in the demonstration area.
Duncan Poole, Science Teacher at Chapel-en-le-Frith School, adds: "A well organised day that provided pupils a meaningful connection with industry. The structure of the day gave a context to what a wide range of careers are available within the industry and support services, with different entry points and levels. It was apparent how well different companies trained and nurtured their staff throughout their careers. Year 10 pupils came back from the days with a much broader understanding of career prospects in the quarrying industry."
Peter Kay, Head of Learning and Development at Tarmac "We really enjoyed meeting with the students who were very engaged in the interactive activities we showed them as part of demonstrating how training and learning is delivered in Tarmac. Our industry offers so much to people looking for exciting, varied and valuable careers and we hope we've encouraged some new applicants!"
Ben Coppock, General Manager Blasting and Explosives at EPC-UK "Investing in the future is critical for sustainability of the industry and our economy, it was a pleasure to welcome these visitors to our stand and dispel some of the quarrying 'stereotypes' by taking them through the innovative, technology led approach we apply to our blasting contracts."
Paul Holmes, Managing Director at Wirtgen Limited "It was a pleasure to welcome the students to the Wirtgen stand and explain how our machinery helps construct and maintain our country's infrastructure. The enthusiasm shown by this next generation, to the minerals sector, is both encouraging and comforting that there is a bright future ahead."
Tracy O'Kane, Technical Innovation Lead Engineer at CDE said: "People are the cornerstone of CDE. It's crucial that we attract, nurture and retain the best talent if we are to deliver on our purpose to build our best world, a ton at a time. That's why we were delighted to play our part in the first Hillhead school visit to demonstrate what it is we at CDE, alongside our colleagues in the wider materials processing industry, are working to achieve. We are passionate about inspiring and equipping the next generation of engineering talent to drive continued innovation in the industry. Ours is one that has huge career potential, so we would like to thank the Institute of Quarrying for showcasing the breadth of opportunity and we hope to see the students from Chapel-en-le-Frith High School pursue careers within the engineering sector of this industry."
Amy Metcalfe, Marketing Director at SMT GB said: "We enjoyed welcoming students onto our stand at Hillhead as we are always interested in meeting the next generation to showcase the opportunities available in our industry. While on our stand the students watched an Articulated Hauler working in the demonstration area, drove machines themselves on our simulators and then enjoyed watching our Electric machine demo show."
The week prior to attending Hillhead, the students also visited the National Stone Centre, a 40 acre Site of Special Scientific Interest (SSSI) in Wirksworth and participated in a session 'An Introduction to Quarrying', a workshop developed to give students an overview of where minerals are used and the impact of the industry. It was delivered by Jacob Wright, industry STEM ambassador employed at Tarmac Tunstead. The students also had the opportunity to see first-hand the geological features of the former quarry sites and the fossil trail.
Both visits were delivered under the Minerals Matter initiative, an industry led approach to raise the profile of the sector for career opportunities, and supported by D2N2 LEP Careers Hub. Established in 2010, D2N2 is one of the largest Local Enterprise Partnerships (LEPs) in England, representing a population of more than two million people and with an economic output of over £42.9billion GVA (Gross Value Added). It works closely with all local authorities to grow the area's economy. The Careers Hub in D2N2 is part of a national programme funded by the Department for Education, led nationally by the Careers Enterprise Company.
Emily Carter, Operational Careers Hub Lead at D2N2, said: "Working in partnership with IQ to support this pilot programme has been an exciting development here in Derbyshire. Young people can't be what they can't see. Creating an opportunity to access the aspiration raising Hillhead Show I am sure has been a huge step in supporting future skills into the industry by allowing business in this sector to showcase the diversity of pathways available, and young people to visualise themselves in an environment they may not have considered previously. It is essential that we continue to develop this best practice to reach more young people from the earliest opportunity within their education."
The Institute of Quarrying is the international professional body for quarrying, construction materials and the related extractive and processing industries. Its is to promote the positive impact of the industry, the career opportunities available and support professionals working within it.