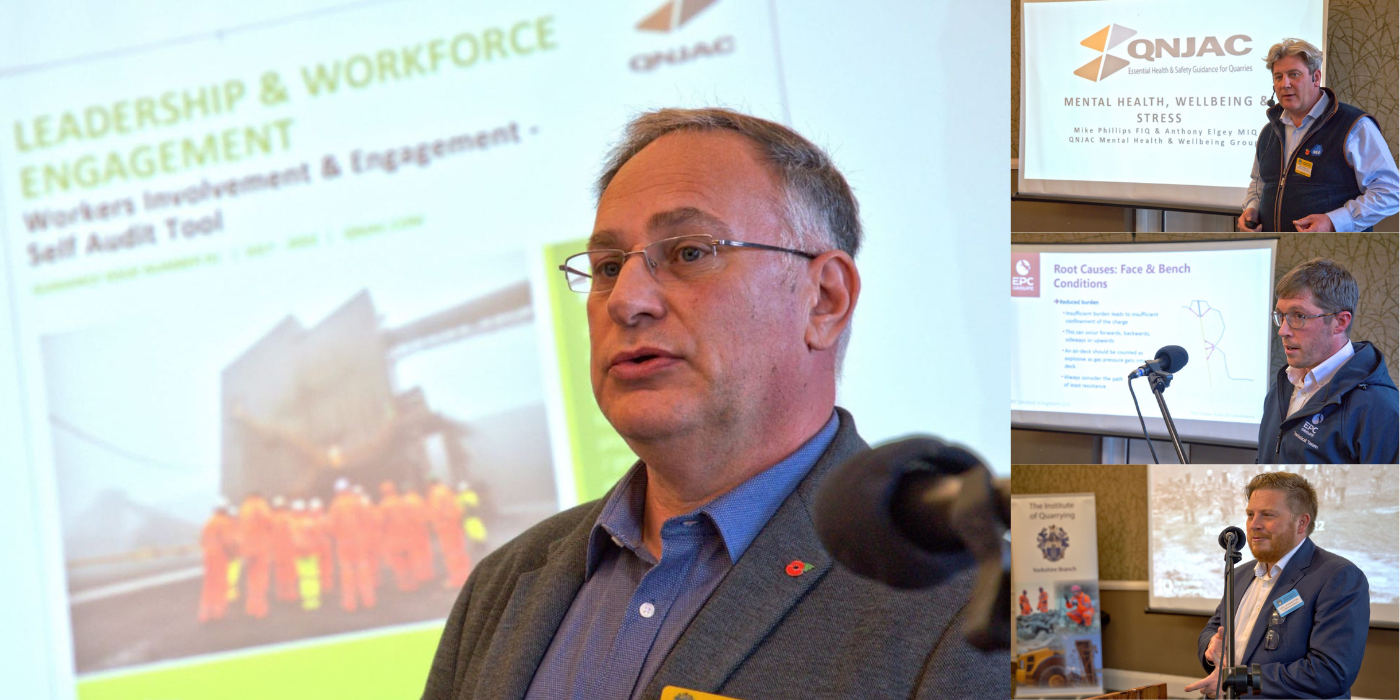 The health, safety and wellbeing of the quarrying workforce continues to be the industry's top priority. It is imperative that professionals are equipped with the knowledge, understanding and practical application of key regulations and standards that affect the sector in order to achieve the ultimate goal of delivering safe practices in the working environment.

As the membership organisation for the mineral products sector, the Institute of Quarrying (IQ) champions the role of continuing professional development (CPD) in raising standards by developing a more engaged and fully-trained and competent workforce.

It is through collaborations with influential industry partners and associations, IQ members have access to a comprehensive suite of CPD learning materials and educational resources, enabling them to raise standards, share knowledge and be recognised as highly skilled professionals.

Viv Russell FIQ is President of the Institute of Quarrying, as well as Chair of the Quarries National Joint Advisory Committee (QNJAC). Throughout his career, he has helped raise standards in health and safety, sustainability, operations management, and community relations.

He says: "A critical part of safety performance is continuing professional development, which is why collaborative working, visible felt leadership and worker engagement across the mineral products sector supply chain are key to preventing workplace accidents and improving occupational health.

"QNJAC's 'Target Zero' initiative aimed at ultimately delivering quarrying as a zero harm industry resonates with everyone. It recognises that a safe place to work has a positive impact on our sector's public perception, as well as increasing productivity and profitability, but most importantly, it's about keeping our people safe from harm.

"The priority for all of us is to ensure we work together effectively and utilise all the tools and resources available to us in making the workplace safer, raising standards, and developing a competent workforce."

Health and Safety CPD Days

At the very heart of IQ is the community network of industry professionals all sharing knowledge and best practice. Its network of regional branches organise regular events for members to network and socialise.

The Derbyshire, Yorkshire and Midlands IQ branches regularly hold Health and Safety CPD Days for members. Featuring a back-to-back schedule of presentations led by influential industry-figures and leading businesses, the events are pivotal in educating and discussing health and safety best practices across the quarrying and extractives sector.

Topics covered in the current series of CPD events include self-audits, mental health and wellbeing, pedestrian safety, inspections and guidance. The events feature insightful presentations from industry figures Viv Russell on behalf of the QNJAC; Anthony Elgey, IQ Education and Skills Manager; Mike Phillips, Director at MinExp and CEO the British Aggregates Association; David Lukey, Managing Director of Concrete Marketing Consultants Ltd; Dr Jeff Adderley and Sam Skinner of EPC-Group, and Andy Meadows, QNJAC Electrical Technical Advisor and Member of Isolation Task and Finish Group.

John McGough FIQ is IQ Derbyshire Branch Chairman. Commenting on the recent Health and Safety CPD Day, which was held in Chesterfield, he says: "It was great to be able to chair a successful health and safety conference, the first face-to-face one to be held post-Covid. Maintaining CPD is so important and this was an opportunity for the delegates to receive informative updates from the presenters, who we thank for giving up their time. The event was well supported and the feedback was very positive."

IQ members who would like to find out more information about upcoming Health and Safety CPD Days, or register their attendance, are advised to visit www.quarrying.org/health-safety-cpd


IQ Personal Development Wheel
One of the latest IQ developments and member added benefits is the new professional mapping tool, the IQ Personal Development Wheel.

The tool helps mineral products professionals carry out an effective self-audit of knowledge and skills levels against the IQ Skills Wheel, helping to achieve career goals and build agile workplaces.

James Thorne, IQ CEO, explains: "Encouraging our members to actively participate in CPD activities is at the heart of what we do. Investing in professional development means that each of us is equipped with the required skills to remain relevant and competent.

"Our Personal Development Wheel brings together the IQ Skills Wheel with our CPD recording tool. Members can carry out their own self-assessment of their knowledge and skills levels against the IQ Skills Wheel quadrants. Using the results, they can create a personalised development plan in the areas they wish to develop in order to achieve career goals. For example, if a Quarry Deputy wanted to progress to a Quarry Manager role, the Personal Development Wheel helps identify the areas that they need to develop.


"The IQ Skills Wheel shows how to build skills across different knowledge areas. Now combined with the Personal Development Wheel, individuals and businesses have a guide to assist with personal development plans and can help build flexible and agile workplaces based on a better understanding of industry training needs."


Brendon Marshall MIQ, Operations Manager at Sibelco, says: "I highly recommend the Personal Development Wheel to all IQ members. The ability to view your strengths and how it relates to the Skills Wheel, with the added benefit of comparing your results to job roles that are based on the views of industry employers, helped me to create a plan that focuses on CPD that will really benefit me."
Workplace safety guidance

The most recent guidance developed by the Quarries National Joint Advisory Committee (QNJAC) to support the activities of the Strategic Forum for Health and Safety in Mineral Products is a Workplace Transport & Pedestrian Interface - Self Audit tool.

Workplace transport related incidents still represent a significant proportion of the serious and fatal injuries in the industry. Data from the Health and Safety Executive (HSE) reveals 19 per cent of fatalities were reported as being 'struck by moving vehicle'1.

The self-audit tool for workplace transport and pedestrian interface has been developed by a working group from QNJAC to complement the handbooks and posters produced by the Mineral Products Association (MPA) and a free e-learning module from Mineral Products Qualifications Council (MPQC).


Following the Plan-Act-Do methodology, users of the audit can record their findings, use them to write an action plan and make a record of the actions taken as a result of the audit. The questions included in the audit represent a good starting point that will be adequate in most situations.

Viv Russell, Chair of QNJAC, says: "The tool represents the latest guidance from our working groups that support the industry in its ambition to improve its performance in key areas. The strength of the QNJAC groups is the collective experience and knowledge of the individuals developing these tools. They know the issues and the industry which ensures the tools are relevant and can deliver real change when adopted by organisations."

The QNJAC Self Audit tool can be found at: http://www.qnjac.co.uk/qnjac-guidance/plant-fixed-and-mobile/a-guide-to-pedestrian-safety-in-quarries-and-surface-mining/workplace-transport-pedestrian-interface-self-audit-tool/


Information about IQ membership can be found online www.quarrying.org