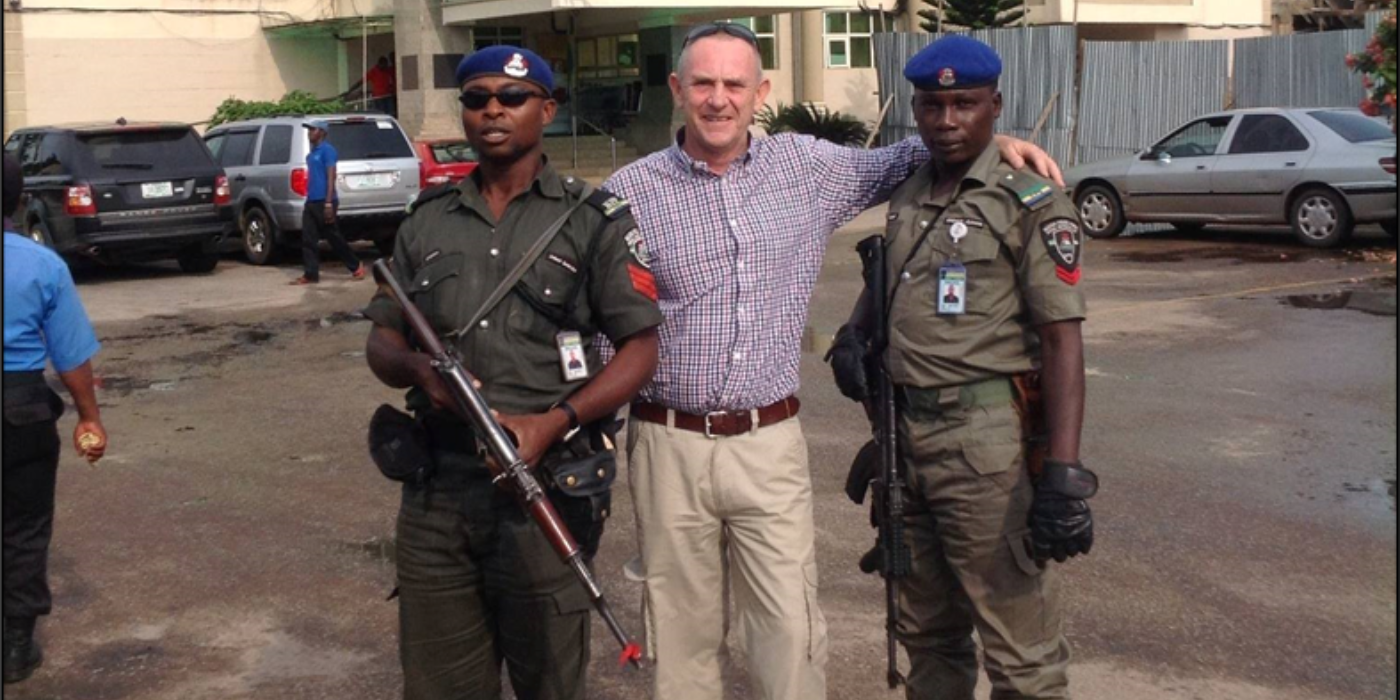 Events hosted by the IQ Derbyshire branch are a place where industry professionals can meet to discuss the latest trends, best practice techniques and issues affecting the industry. At a recent event, the branch tackled the issue of mental health. [1] According to the Health and Safety Executive (HSE), an estimated 17 million working days were lost due to work-related stress, depression, or anxiety in 2021/22. This is over half of all working days lost due to work-related mental health.

In an exceptional presentation, Chris Rowan, Programme Leader for Mineral Extractives and Cement Technology and Senior Lecturer at the Centre for Mineral Products at the University of Derby, provided a personal account of his experiences that started with being shot with an automatic machine gun and dragged from his car.

Titled 'Reflections of a former hostage' Chris recounted what happened to him whilst working in Nigeria. He started his career in Tarmac, working his way up to General Manager before applying his knowledge overseas, having roles in Oman, Zambia and Nigeria.

With specific hostage training and having two armed guards by his side, Chris never felt under the impression that his safety would be at risk. In Nigeria, detailed risk assessments and processes on the threat of kidnap were part of standard procedures, which are continuously reviewed. Despite all the precautions in place, Chris was kidnapped, held hostage for seven days at gunpoint, and put through two mock executions.

When describing the impact on his state of mind following the events, Chris said: "The real trauma started the minute I stepped off the plane and realised that this is where the hard work begins. I was desperate to see my family, but when I left the plane, I felt like I didn't want to face anyone. I did not want anyone to see any weakness."

Feeling isolated and consumed by the life-changing altercation, Chris was left feeling like he couldn't express his feelings on the situation, due to no one else being able to resonate or relate to this experience. Unfortunately, there still remains a stigma around mental health. It felt expected to 'man-up' and get on with it. Due to these underlying thoughts, I resorted to alcohol to give me a brief respite from it all, but it didn't help.

With the encouragement of his wife, Chris contacted Hostage International, an organisation set up by Terry Waite CBE that offers support for hostages and their families. Chris said "I can't credit the organisation enough, they were fantastic. They taught me how to deal with and cope with trauma. Since the day I accepted my personal issues and began opening up, it's been so much easier to live the life I thought was once over."

When talking about general attitudes towards mental health in the industry, Chris feels that positive steps have been made to raise awareness. "There can be stigmas and discrimination associated with mental health that stems from a lack of understanding or information on the subject, which leaves individuals feeling embarrassed or ashamed of opening up. However, a lot of progress is being made to address mental health within the industry."

The Institute of Quarrying Benevolent Fund (IQBF) has been providing assistance to quarry professionals and their families since 1925 and is available for anyone who needs support with mental health. Wanda Zablocki, IQBF Welfare Officer, can be contacted at wanda.zablocki@quarrying.org

The next Derbyshire branch event, titled 'Health & Safety: Back to Basics' will include an informative presentation on health and safety legislations, accident statistics and main causes, core health and safety 'basics', and effective leadership and workforce engagement.

[1] Anon, (n.d.). HSE publishes annual work-related ill-health and injury statistics for 2021/22 | HSE Media Centre. [online] Available at: https://press.hse.gov.uk/2022/11/23/hse-publishes-annual-work-related-ill-health-and-injury-statistics-for-2021-22/