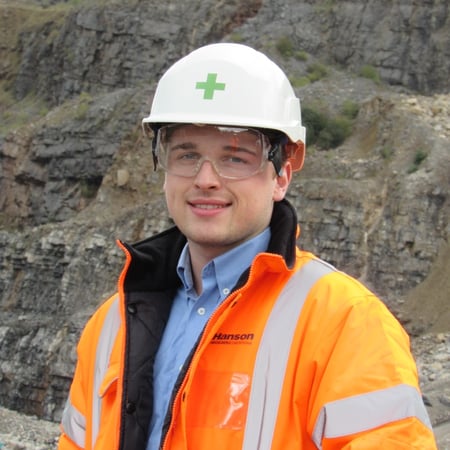 Membership of the Institute is almost a rite of passage for anyone working in the mineral extractives sector. It's not just about letters after your name; it's the whole raft of benefits, from networking and branch meetings to access to relevant and topical information and personal development programmes.
Daniel James MIQ Quarry Manager, Penderyn Quarry, Hanson UK
[fa icon="quote-right"]
Quarrying is a wide reaching industry with a variety of roles.
From working with the environment, to management, to geology and science, to sales, there is something for everyone.
"When I finished school I went to work as a trainee in dentistry, but I quite quickly realised it wasn't the career for me. While searching through the job ads and checking out courses, I spotted Hanson UK's LEAD Higher Apprenticeship programme.
"I knew quite a few people who already worked within the industry as Hanson UK had a quarry in my local town, Builth Wells. Talking to them really captured my interest, so I decided to apply for a position and I was lucky enough to be successful.
"As one of the first intake on Hanson UK's LEAD Higher Apprenticeship programme I was very excited by the career opportunities available to me, whilst at the same time being able to complete a higher eduction qualification. I hadn't any interest in going to university, so this provided the perfect pathway for me in that I could get real work experience, further my education and earn a wage.
"That was over five years ago and I've now worked my way up to the role of Quarry Manager, responsible for a site that has been worked continuously since 1890."
The plant in Hanson UK's Penderyn quarry is capable of producing 600,000 tonnes of limestone per year. The quarry was once linked to the rail network and was used to supply ballast to the sidings at Hirwaun.
"One of the best things about what I do is the fact no two days are the same. That can be challenging, but also very rewarding. Combine that with the great people who I have had the privilege of working alongside and you can see why I'm so passionate about what I do.
"I get involved in a wide variety of different challenges, anything from overseeing quarry development and organising/mobilising operations, to managing the site's finances, as well as maintaining and improving health, safety and environmental standards.
"I have completed a Level 6 Diploma in Health, Safety & Environmental Management and I am currently coming to the end of my Honours Degree in Minerals Management at the University of Derby. I have also completed a wide range of training courses including IOSH Managing Safely, Confined Space Entry, Management of CDM projects, First Aid at Work and Geotechnical Supervision, to name a few.
"Once I feel I have achieved what I want to achieve in my current role I would like to progress into a senior management role within operations. However, I would also consider a change of role for a period of time within a different department, such as commercial.
"I joined the Institute of Quarrying when I started within the industry. Membership has enabled me to meet, interact and develop working relationships with a wider group of people within the industry and outside of Hanson UK. I have also attended a number of educational events hosted by IQ which have helped me to expand my skillset and develop into a more complete manager.
"Quarrying is an extremely wide reaching industry. It offers a variety of roles that require specialist skill sets. From working with the environment, to management, to geology and science, to sales, there is something for everyone. For me personally I have developed many universal skills which I can use in various different roles; even in different industries."