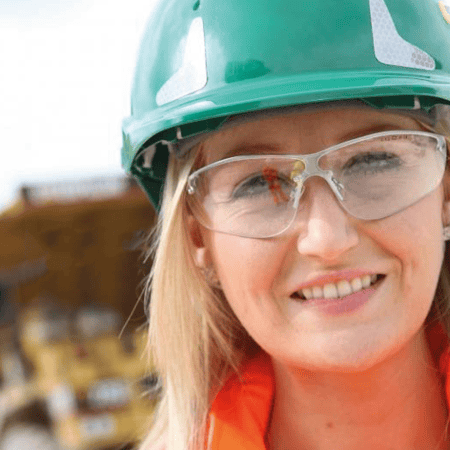 The message that I would want others to take from this is that there are massive opportunities within the quarrying sector for those that work hard and want to progress.
Dannika Bannon MIQ Quarry Manager, Bestwood and Calverton Quarries, Tarmac
[fa icon="quote-right"]
As quarry manager I get involved in every aspect of operations.
Its so diverse and so connected to the natural world. Its a fantastic career and I'm lucky to be a part of it.
"I'm originally from Chesterfield and after school went to Sheffield Hallam University to study Law and Criminology. Three years into the degree I realised that this wasn't the path I wanted to follow.
"Whilst at university I had a part-time job in an out-of hours logistics team. Tarmac advertised a full-time job in transport logistics at its head office and I was fortunate to get the position. After 18 months, I really wanted to get into the operational side of quarrying, so I applied for a weigh bridge position at Ballidon quarry just outside Ashbourne.
"The weigh bridge office is the control centre of any quarry - ensuring the right products are sent out to customers on time. It was here that I went back to formal studying and started my foundation degree in Mineral Extractives Technology at the University of Derby. It's a three year part-time course that I've now completed, graduating July 2016.
"Initially I became a Technical Member of the Institute of Quarrying and got involved in an industry wide project called PRIME that promoted recognition of skills and training. This project, combined with the support I've had from Tarmac, has really transformed my career outlook and given me the recognition of my skills and the confidence to keep progressing. Now I'm a full Member of the Institute and immensely proud of my achievements.
"Over the last few years my career has catapulted, going from a weigh bridge supervisor, gaining experience across quarry operations, including shotfiring and becoming an explosives supervisor, through to running two quarries.
"As quarry manager, I get involved in every aspect of operations. I'm particularly proud of my team and the great work they do. Together we achieve fantastic things. We're working hard on a planning application to extend the life of the quarry to secure its future for the next 10 years. That involves everyone pulling together to champion the good work we do here.
"We've got nesting peregrine falcons and ravens in the quarry, which gives you an idea of the wonderful restoration work we do. Our operations have created new cliff face habitats that don't exist elsewhere locally, so we're a bit of a magnet for wildlife.
"That's what I love about what I do; it's so diverse and so connected to the natural world. I can see my future and it's in quarrying. I've set my sights on progressing to production manager, area operations manager and after that, hopefully director. It's a fantastic career and I'm very lucky to be part of it."