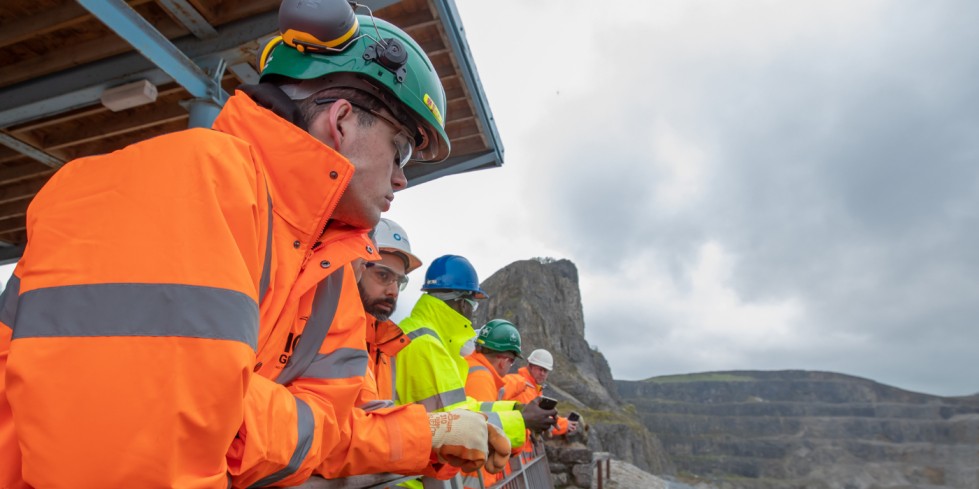 The Institute of Quarrying (IQ) has promoted professionalism in the mineral products sector and proudly supported career development for more than 100 years. At the very heart of the IQ is the community network of industry professionals, all sharing knowledge and best practice. There are over 2,800 members in the UK and a global network of more than 5,500 people.

Despite issues associated with the pandemic over the last year, the IQ has enjoyed a phenomenal 91 per cent retention rate, with members expressing their commitment to being part of their professional industry body. Now, with a new year ahead, the IQ is encouraging industry professionals to boost their careers and join membership.

Sarah Fry is IQ Head of Membership and Marketing. She says: "We're grateful that members value being part of the industry's own professional membership body. On average, people stay with us for 13 years, showing that individuals value the networking, guidance, and support from the Institute of Quarrying. We constantly review our processes to ensure that we are providing the highest levels of support for our members.

"The IQ has been here to support members throughout a challenging 24 months. Not only do we promote professional development, but we also provide support when times get tough, with confidential access to the IQ Benevolent Fund available for all members, past and present.

"Looking ahead, we'd like to remind those working in the sector of the many membership benefits. Not only can you boost your career with access to internationally recognised industry qualifications, but you also become part of a growing community of like-minded professionals and future leaders, plus much more."

Why join IQ membership?

Anyone associated within the quarrying, mineral extractives and processing sectors, at any stage of their career, can reap the benefits of IQ membership, whether working directly in a quarry or as a supplier to the industry. Some of the benefits of IQ membership include:

● Professional recognition with designatory letters
● Support and advice at all stages of your career
● Access to valuable continuing professional development (CPD) resources, networking events and internationally-recognised qualifications
● Monthly subscription to industry magazine Quarry Management
● Access to the IQ Benevolent Fund
● Being part of a global community of professionals committed to sharing knowledge and best practice.

As a member's work experience, knowledge, skills, and career evolve, so does their membership. The structured professional membership grades - Student, Associate, Technical Member (TMIQ), Member (MIQ) and Fellow (FIQ) of IQ - reflects an individual's professionalism, level of competence and commitment to the mineral extractives sector.

Spotlight on Ean Noble

Ean Noble, of Tyrone International Ltd, recently joined IQ membership. He looks after the sales aspects of the business within the UK. Commenting on his recent enrollment, he says: "I joined the Institute of Quarrying as many of my friends and colleagues influenced me into becoming a member, from their own experiences with IQ and the benefits that the membership reaps.

"At Tyrone International, we build and manufacture our plants. We erect them and then commission them together with all closed-loop water treatment. Within my role, it's very much a case of wearing different hats on a day-to-day basis.

"IQ membership will support me in my day-to-day work activities and enable me to develop my role. I am really looking forward to being able to share my experiences with other members and to learn from them. With the flexibility it offers, members can meet both online or offline at physical venues for training, discussions, or to share a host of knowledge which can then be passed on to other individuals within the industry.

"I believe that IQ membership will be a valuable tool for me and I am pleased to be a part of it."

IQ membership grades explained

The graded membership at IQ provides clear progression as an individual's career grows. The levels of membership are:

Student membership is ideal for anyone studying geoscience or engineering degrees full-time and considering the minerals products sector as a career option.

Associate membership is suited to anyone working in or supplying to the industry but hasn't yet received any formal industry qualifications.

Technical Members (TMIQ) have a technical skill or expertise that has been underpinned by a technical qualification, for example, the Level 3 Diploma in Quarry & Mineral Processing Maintenance Operations, as well as at least one-year relevant work experience.

Member (MIQ) grade identifies those people working in supervisory, management or specialist roles that have known industry qualifications, for example, the Diploma in Quarry Technology from the University of Derby as well as three years or more experience in the industry.

Fellow (FIQ) membership recognises those people that have senior management experience. To achieve Fellow membership, individuals require seven years' industry experience, four of which are of senior managerial responsibility and known industry qualifications.

Anyone looking to join membership or advice about their membership can contact Debbie White, IQ's Membership Officer, on 0115 972 9995 or via email at debbie.white@quarrying.org.

For information about IQ membership, visit www.quarrying.org.