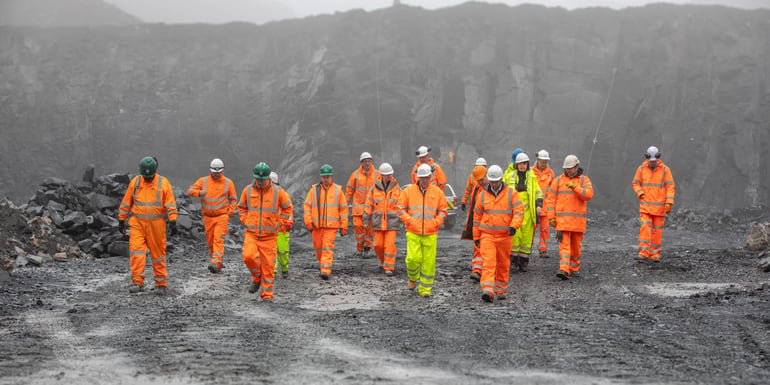 One of the immediate benefits enjoyed by members of the Institute of Quarrying (IQ) is belonging to a community of like-minded professionals who can provide the inspiration and incentive to pursue a multitude of future career pathways.
In the UK alone, IQ has over 2,800 members and more than 5,500 members across the globe, each with a story to share about how they have succeeded in this most rewarding of industries.
A job in quarrying can equip individuals with the knowledge, behaviours and capabilities to pursue a rich variety of career pathways. When aligned with the global opportunities available in the sector, it can often lead to professionals moving into different job roles, relocating internationally, and even diversifying into entirely new sectors.
James Thorne is IQ CEO. He says: "What's great about our industry is that a role in mineral products can act as a key to unlock an extraordinary wealth of future career opportunities. Working in quarrying equips you with a range of flexible skills that can be used to underpin your progress in the minerals extractives sector and beyond.
"The primary role of the IQ is to promote the breadth of career pathways available to anyone working in quarrying, whilst at the same time supporting lifelong learning. It's through these continuing professional development opportunities and internationally-recognised qualifications that are made available to our members that you develop a diverse range of skills, wealth of knowledge and resilience that can be transferred into new roles and careers, and sometimes even different industries."
Global opportunities
More than four million people work in the global quarrying and aggregates industry1 leading to many quarrying professionals progressing into new roles with companies across the globe.
Rod Noble FIQ was presented with an exciting opportunity shortly after taking up his first job in the industry. He relocated to be part of the Laing-Mowlem-ARC (LMA) consortium, a project that involved rebuilding the Falkland Islands after the war in the 1980s. He describes it as 14 months full of life experiences, with memories of drill rigs being winched up rocky outcrops and blasts that lit the sky.
Forty years on, and now living in Somerset, Rod claims to still have the quarrying bug. He has been an IQ member since 1981, is the current IQ West of England Branch Chair, and works as a freelance consultant offering quarry management services.
Developing transferable skills
The skills gained through knowledge sharing and technical skills developed from the completion of internationally-recognised qualifications provides IQ members with endless career progression opportunities.

Throughout his career, Andy Teasdale MIQ has moved roles, received promotions, temporarily relocated, and even set up his own business thanks to the transferability of skills gained through IQ membership, which he held between 1980 – 1996. He progressed from a day-to-day Quarry Manager role into joint Managing Director of his own precast concrete manufacturing company, which currently employs 110 people with a turnover approaching £30 million.

He says: "It gives me a great sense of achievement and fulfilment that we are providing livelihoods for so many families in Northumberland and Yorkshire where our factory and offices are based.

"One thing I would absolutely recommend to anyone with the inclination, just go for it, even if it doesn't turn out at least you tried!"
Diversity of skills and careers
There's a job for everyone in quarrying, whether working directly in a quarry or as a supplier to the industry, and with that comes the development of a variety of skills and knowledge.

The diversity of skills gained throughout the years enabled Malcolm Stewart FIQ, IQ member since 1980, to work on a project with The HALO Trust, a charitable foundation who make land safe by clearing landmines and other explosives, such as IEDs (improvised explosive devices), so families torn apart by conflict can return and rebuild their lives in safety. He describes it as a truly emotionally rewarding experience.

Wider life skills developed through education and training opportunities also lends its hand to individuals occasionally changing career direction and into completely different sectors.

After completing his industry qualification, Charlie Hill went on to fulfilling various quarry manager roles. However, a career in marketing and sales was calling. Now residing in Australia, he praises the memories and life skills he learnt during his time at college and is grateful for a memorable and fulfilling career. Charlie was an Associate member of IQ from 1980 to 1988 before he relocated overseas.

Lifelong friendships
At the very heart of IQ is the network of industry professionals. No matter what career path an individual is on, geographical location or role in the sector, being part of a global community is a great way to meet new connections and develop friendships for life.

Ten current and former IQ members who studied the Doncaster Diploma in Quarry Engineering at the Doncaster Metropolitan Institute of Higher Education in 1979 continue to champion the value of IQ membership throughout their careers.
Known as the 'DDQ Class of 1979', they have now published an ebook titled '40 Years On. Ten reflections on life before, during and after quarrying', reflecting on their career pathways in the industry.

Malcom Stewart played an instrumental role in pulling the reunion together. He says: "In 1980 we were 10 guys from all corners of the UK whom fate threw together at the Doncaster Metropolitan Institute of Higher Education. It was here we embarked on the Doncaster Diploma in Quarry Engineering, later renamed the HND in Quarry Eng.
"As members of the Institute of Quarrying, we all continued to enjoy a common bond long after our student days were over. Membership provided opportunities to socialise at branch events, whilst ensuring our continuing professional development was up to date. And with the occasional national event, it gave us an excuse to keep in touch as a group over the years."

Read their full, un-edited accounts and purchase the ebook '40 Years On. Ten reflections on life before, during and after quarrying' on Amazon.

Alternatively, a physical softcover edition is available to purchase on Blurb.
Find out more about IQ membership online www.quarrying.org